Castoria Fire & EMS
Posted: Sunday, January 15, 2006 - 04:55:14 PM
Updated: Sunday, January 15, 2006 - 04:55:14 PM

,
,

Phone: 252-747-2482
Website: http://www.localfirehouse.com/department/22215.html

---
Castoria Volunteer Fire and EMS proudly protects a primary population 1,700 people living in an area of 35 square miles and a secondary population of 25,671. We operate out of 2 stations that protect rural/residential/industrial areas offering Firefighting, Basic Life Support, and Search & Rescue. Our staff includes 38 firefighters: 25 males and 13 females, and 16 of our 38 are Certified Emergency Medical Services Personnel. Three of our members serve as dispatchers for the county. Automatic mutual aid is dispatched to us from Walstonburg and Farmville.

**WEATHER ADVISORY:
-Ozone/Air Quality: Good for Triangle Region
-Fire Danger: Low


Amber Alert Ticker:

**CASTORIA FIRE-EMS WILL SOON BECOME STATION 43. A NEW COUNTY-WIDE NUMBERING SYSTEM HAS BEEN CHOSEN, AND WE ARE NOW DISPATCHED AS STATION 43 CASTORIA. **

**CASTORIA'S GREENE NATURAL FIBERS KENAF PLANT FIRE RANKS #7 ON THE TOP TEN FIRES OF 2004 BY FIRENEWS.NET**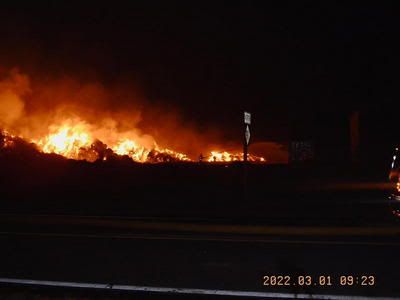 Castoria Fire and EMS is located on Highway 91 in northern Greene County in Eastern North Carolina. We serve the communities of Castoria, Hedgefield, Wooten's Crossroads, and part of Lizzie.
The hospitals we transport to, in order from most to least are:
1. University Medical Center
2. Wilson Medical Center
3. Lenoir Memorial Hospital
4. Wayne Memorial Hospital

Helicopter service is provided by:
-EastCare (Pitt County)
-Pedro (Craven County)
-Duke LifeFlight (Durham County)
-AirLink (New Hanover County)
-Carolina AirCare (Orange County)

**A picture of our all NEW patch will be posted soon.
***OFFICERS FOR 2006:***
Chief- Steve Marshburn
Asst Chief- Anthony Grant
Captain- Todd Combs
Lieutenant- Andy Cook
EMS Captain- Dennis Baker
President- Brian Shackelford
Vice Pres.- Scott Cannon
Secretary- Kathy Summerlin
Treasurer- Kathy Summerlin

**IN MEMORY**
Asst Chief Sam Summerlin 1952-2004
---
If you are an authorized department manager for your department's page, and you need to make changes to this department's information, please submit your updates through this form.