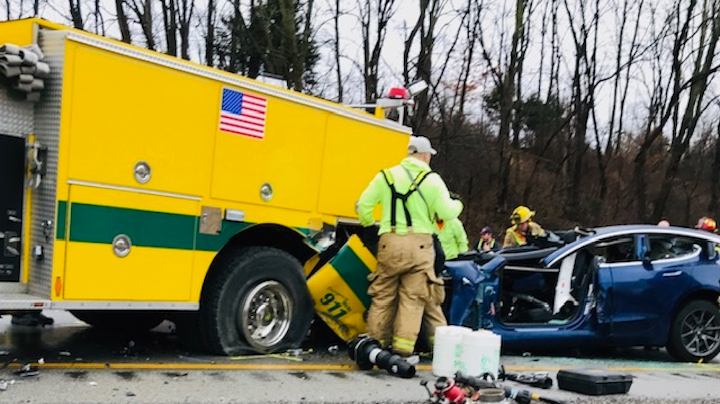 Cloverdale, IN, Fire Department
Federal investigators from a special program that focuses on unusual vehicle accidents across the country will look into a fatal crash last month between an Indiana fire apparatus and a Tesla electric car.
On Dec. 29, Cloverdale firefighters were responding to a single-vehicle accident along Interstate 70 in Putnam County, and apparatus—which had emergency lights on— were parked in the passing lane at the scene, according to the Indiana State Police. That's when 2019 Tesla Model 3 struck the rear of a parked apparatus.
A husband and wife were extricated from the Tesla with serious injuries and taken to the hospital, where the woman, 23, died. No firefighters were injured in the crash.
Now, the National Highway Traffic Safety Administration's Special Crash Investigation Program will be examining the incident, the Indianapolis Star reports. The program has the "ability to locate unique real-world crashes anywhere in the country and perform in-depth clinical investigations," according to the agency's website.
What has drawn the interest to the NHTSA's program is Tesla's autopilot function, which allows the car to steer,brake and speed up but doesn't make the vehicle self-driving. Authorities haven't been able to determine if that function was in use before the crash, the Star added.