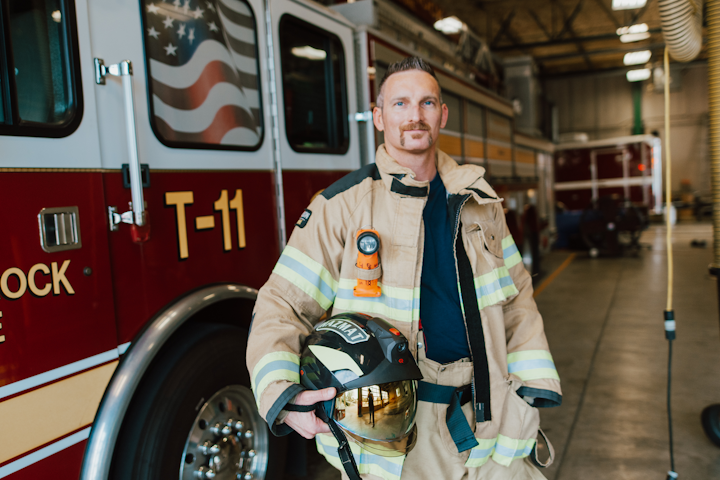 Courtesy CSU
CSU Honors National Outstanding Fire Service Professionals
Columbia Southern University (CSU) fire administration faculty selected Casey Jones of the Little Rock, AR, Fire Department as the 2019 Outstanding Fire Service Professional of the Year. Shawn Downs of Washington, D.C., Fire and EMS was selected as this year's runner-up.
Jones, who is a fire engineer and hazardous materials technician in the special operations unit, Hazmat 11, has worked in Little Rock for the past 12 years. During this service, he won numerous awards, including Firefighter of the Year, Employee of the Year and the Garry Briese Safety Performance Award from the International Association of Fire Chiefs' Safety, Health and Survival Section.
Jones, who is a 2019 CSU graduate, developed a training program that's focused on mitigating the risks that are associated with firefighter contamination from smoke. His efforts led the University of Arkansas for Medical Sciences to create a video that explains the risks that firefighters face during smoke exposures. Jones also shares his knowledge with hundreds of other firefighters at national conferences and fire departments.
Jones was inspired to pursue this research while taking a CSU course for his bachelor's degree.
"During this course, I started a project that researched the dangers of fire-produced smoke and particulates and the health effects on firefighters," he said. "The research was shocking and outcomes overwhelming."
Similarly, Downs, a battalion fire chief and current CSU student, has worked diligently to educate his D.C. department since 2016 about the risks of cancer. He instituted the district's first cancer prevention/reduction plan for its members.
Downs also has served as a fire chief with the Bay District Volunteer Fire Department, working extensively with the Make-A-Wish Foundation, for which he can be found dressing up as a superhero to visit hospitalized children.
The Outstanding Fire Service Professional of the Year award was established as part of National Fire Prevention Month and to recognize CSU fire service students and graduates for their commitment to safety and professionalism and their accomplishments in the industry.
For more information about CSU, visit ColumbiaSouthern.edu.
Pelican Kicks Off "Portraits of Protection" Photo Competition
With a long history of providing protective cases for both photographers and first responders, Pelican Products has announced its "Portraits of Protection" photo competition. It's designed to immortalize heroes who've stepped forward in the face of danger.
Pelican invites photographers to submit photos of either heroism in action or the faces of heroes and to post on Instagram, tagging @pelicanprofessional, #PortraitsofProtection, and #PelicanPhotoContest for a chance to win. Each month, the most moving and visually interesting photos will be selected as winners and featured on Pelican Products' social media channels. The winning photographers and the heroes who are photographed will each receive their choice of $500 in Pelican gear.
"At Pelican, we recognize our products are put in critical situations with first responders that require them to perform every time," said Lyndon Faulkner, CEO of Pelican Products. "There is a sense of responsibility that goes into every product we make. Our hope is that we receive images from these skilled photographers that serve as a daily reminder to our team of the responsibility they accept every time they walk through the door, and to honor these real-life heroes."
"Portraits of Protection" corresponds with Pelican's charitable giving program, "Pelican Protects—Supporting the Heroes Who Protect Us," in alignment with its continued support of first responders and related causes.
Contest details are available at woobox.com/eqhu3g.
First Alert, NVFC Partner on Fire Extinguisher Training
According to a recent research report, 70 percent of fire extinguisher owners say they wouldn't be comfortable using an extinguisher in the event of a fire. For this reason, First Alert and the National Volunteer Fire Council (NVFC) developed a new fire extinguisher training course for volunteer fire departments nationwide, supplemented by an extinguisher donation program for community outreach initiatives.
Called "Home Fire Preparedness: Fire Extinguisher Best Practices," the course educates volunteer fire department personnel about the role fire extinguishers can play in fire safety and how proper extinguisher placement and maintenance can help to reduce the risk of severe fire incidents.
Cooking fires are the leading cause of home fires, with ranges or cooktops accounting for 63 percent of home fire incidents, according to the National Fire Protection Association. Many small kitchen fires likely could be resolved with a fire extinguisher if caught early. However, the research revealed that 50 percent of fire extinguisher owners never operated one, while 60 percent of respondents stated that they very likely would use one in the event of a fire.
"Operating a fire extinguisher can make people feel uneasy, which is why First Alert provides tools to help educate the community through local fire departments," said Tarsila Wey, director of marketing for First Alert. "Fire extinguishers are an integral part of a home safety plan, along with smoke and carbon monoxide (CO) alarms and having—and practicing—an escape plan."
The training provides insight about the different types of fire extinguishers, when and how to use them, and detailed information on proper maintenance and appropriate placement of fire extinguishers. Participants also will learn the importance of knowing when not to use an extinguisher, but to instead call 9-1-1 and exit the home safely. This training will enable volunteer firefighters to educate their community on how to properly and safely use this important line of defense.
In the home, a simple way to remember how to operate a fire extinguisher is with the acronym PASS:
Pull the pin on the extinguisher
Aim the nozzle low toward the base of the fire
Squeeze the trigger
Sweep the nozzle from side-to-side
To complement the training, First Alert donated 500 rechargeable 1-A:10-B:C fire extinguishers to volunteer fire departments to help them make an immediate impact in their communities. Departments that receive the extinguishers are part of NVFC's Fire Corps program, which utilizes community volunteers to assist resource-constrained fire departments with non-operational tasks, such as community education and smoke and CO alarm installations.
"The education provided in this fire extinguisher course, combined with First Alert's donation, helps our volunteer departments keep communities safe," said NVFC Chairman Steve Hirsch. "We are thankful for the commitment our volunteer firefighters make to keep their own neighbors safe from threats of fire and carbon monoxide."
The "Home Fire Preparedness: Fire Extinguisher Best Practices" course is available in the NVFC Virtual Classroom. For more information on home safety, visit firstalert.com.
Google Nest, Leary Foundation Announce Grant Awards
Google Nest, which manufactures the Nest Protect Smoke and CO alarm, and The Leary Firefighters Foundation, which was founded by actor and activist Denis Leary, have partnered for the 4th annual "Thank You Grant" in 2019. The grant awards two deserving fire departments across the country with a $25,000 grant for new Google technology and equipment, so they are better equipped to serve their communities. The 2019 recipients are Godfrey, IL, Fire Protection District and the Clinton, IA, Fire Department.
On March 5, 2019, the Godfrey Fire Protection District experienced unimaginable tragedy when a Godfrey fire captain lost his life. Jacob Ringering, a captain and technical rescue officer, suffered fatal injuries in the line of duty after a partial collapse in an Illinois home. Three other firefighters were injured in the blaze and continue to deal with the after-effects of the event.  
On January 5, 2019, Clinton Lt. Eric Hosette died, and Firefighter Adam Cain was critically injured while battling a fire and explosion at an ADM grain facility in Clinton.
Google's ongoing partnership with The Leary Firefighters Foundation has distributed more than $200,000 in technology to deserving fire departments across the country. The technology received through the program continues to have a significant effect on the fire department recipients and the communities that they serve.
For more information, visit learyfirefighters.org or nest.com.
This Month in Fire History
December 1, 1958, Chicago, IL—Our Lady of the Angels School fire kills 95
December 2, 1913, Boston, MA—Arcadia Hotel fire kills 28
December 2, 2016, Oakland, CA—Ghost Ship fire kills 36
December 3, 1999, Worcester, MA—Worcester Cold Storage Warehouse fire kills 6 firefighters
December 5, 1876, Brooklyn, NY—Brooklyn Theater fire kills 295
December 7, 1946, Atlanta, GA—Winecoff Hotel fire kills 119
December 16, 1835, New York, NY—Great New York fire destroys New York Stock Exchange
December 21, 1910, Philadelphia, PA—Philadelphia Leather Factory fire kills 13 firefighters
December 22, 1910, Chicago, IL—Stockyard cold storage fire kills 21 firefighters
December 30, 1903, Chicago, IL—Iroquois Theater fire kills 602
— Courtesy of NFPA