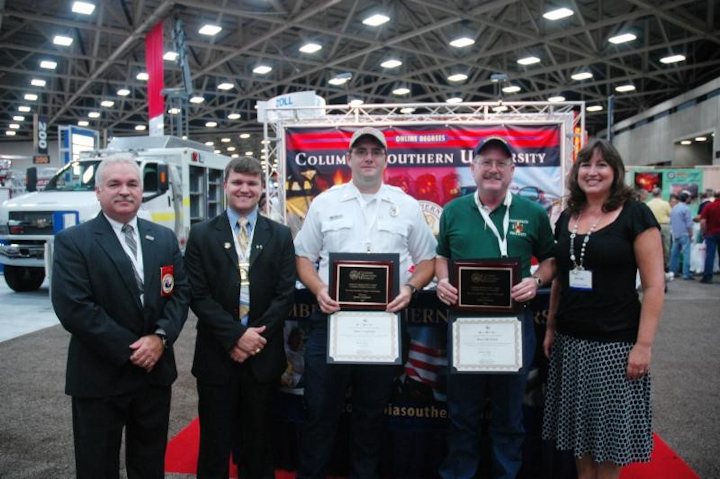 There is just over a week left to apply for the National Volunteer Fire Council (NVFC) scholarship to Columbia Southern University (CSU). CSU will award two NVFC members with a scholarship to help them achieve their educational goals. But hurry - the deadline to apply is September 15.
Each scholarship will cover up to $13,500 toward any one of CSU's online degree programs. The scholarship will be applied directly to the recipients' tuition for up to three years or until the completion of the selected program, whichever comes first.
To be eligible to apply you must be a volunteer firefighter, EMS provider, or emergency responder and a member of the NVFC. If you aren't an NVFC member, join today for just $2.50 per month at www.nvfc.org/BeYourBest.
For questions, please email the CSU scholarship liaison at scholarships@columbiasouthern.edu or call 888-785-3006.
Click here to                                       Learn more and apply now.
About CSU
This year, Columbia Southern University (CSU) celebrates its 25th anniversary. As a pioneer in online education, CSU was established in 1993 to provide an alternative to the traditional university experience. CSU offers online associate, bachelor's, master's, and doctoral degrees such as business administration, criminal justice, fire administration, and occupational safety and health. Visit www.columbiasouthern.edu or call (877) 347-6050 to learn more. 
About the NVFC
The National Volunteer Fire Council (NVFC) is the leading nonprofit membership association representing the interests of the volunteer fire, EMS, and rescue services. The NVFC serves as the voice of the volunteer in the national arena and provides invaluable resources, programs, education, and advocacy for first responders across the nation. Learn more at www.nvfc.org.