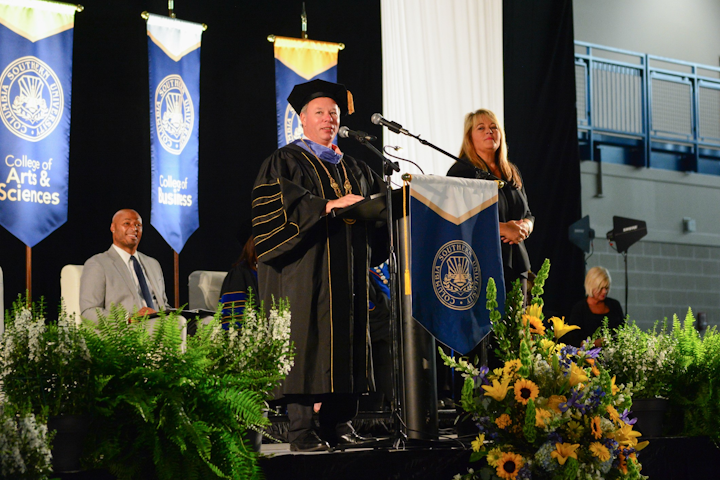 ORANGE BEACH, ALA. — Columbia Southern University (CSU) graduates from all 50 states and 21 countries witnessed a historic moment as the third president of CSU, Ken Styron, was inaugurated at the Foley Event Center at OWA in Foley, AL.
"Thomas Jefferson once said, 'If you want something you never had, you must be willing to do something you have never done.' As CSU's third president, I accept Jefferson's challenge to continue building a bright future for CSU," said Styron, whose tenure as president began on May 1, 2018. "But I also need you to accept it as you go out into the world and apply what you have learned here. Our graduates are our greatest pride. Today, and together, we celebrate you making it to the top of this mountain."
Keynote speaker J.R. Martinez, actor, author, Army veteran and winner of ABC's "Dancing With the Stars," also offered a challenge to the assembled graduates.
"You guys should absolutely celebrate all the hard work and all the sacrifice and the commitment and discipline that you had to have to get to this point," said Martinez, who also spoke about growing up in a single-parent home amid poverty and his journey to success. "But don't let it end here. I challenge every single one of you to continue to be curious, to continue to say to yourself that I'm not going to allow fear to stop me from pursuing whatever else I want to pursue."
In conjunction with Styron's inauguration, the university conducted a special service project at the Foley Event Center to benefit the USO Northwest Florida. Graduates and their guests decorated and filled welcome bags for service members traveling to and through Pensacola, Florida.
"It's always good to give back," said Robert Clark, of Blythewood, South Carolina. "Those of us who are fortunate not to be fighting the war should support the guys and girls that support us. It takes just a little time to come out and pack a couple of bags."
Graduates' generosity did not end there as many dropped off donations for those who were affected by Hurricane Michael. CSU will give the donations to the Foley Fire Department for delivery to relief facilities.
Watch the commencement highlights here.
About Columbia Southern University
This year, Columbia Southern University celebrates its 25th anniversary. As a pioneer in online education, CSU was established in 1993 to provide an alternative to the traditional university experience. CSU offers online associate, bachelor's, master's and doctoral degrees such as business administration, criminal justice, fire administration and occupational safety and health. Visit ColumbiaSouthern.edu or call (877) 347-6050 to learn more.