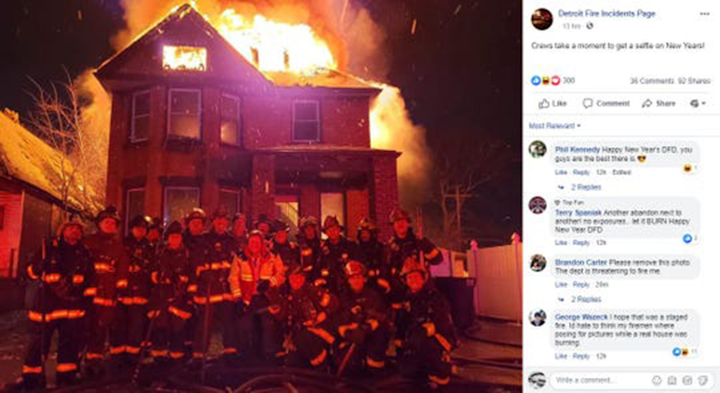 Detroit Fire Incidents Page/Facebook
A photo of a group of firefighters in front of a burning home is under investigation by Detroit fire officials.
The photo—showing more than a dozen firefighters in front of a fully involved 2 1/2-story home—was posted on the Detroit Fire Incidents Page on Facebook Tuesday night.
"There are a lot of ways to celebrate a retirement," Detroit Fire Commissioner Eric Jones told WXYZ.com.
"Taking a photo in front of a building fire is not one of them."
One commenter posted "Way (to) go. Way (to) look professional and this puts a really bad rep on your company too" on the Facebook page, according to DetroitNews.com. Another posting said: "Happy New Year's DFD, you guys are the best there is.😎"
Deputy Fire Commissioner Dave Fornell confirmed with a WXYZ reporter that the burning home was vacant and crews did not enter the structure. 
Jones said the photo is under investigation, adding, "If this photo is verified, discipline will be in order."
Citing three reasons, the photo and post were removed from the Facebook page. The follow up post states: "...the only reason it was removed is we received messages by guys on the job stating that they had been threatened For the photo being posted....To clarify 'threatened' meaning threatened by their work I would assume by their context threatened of punitive actions."