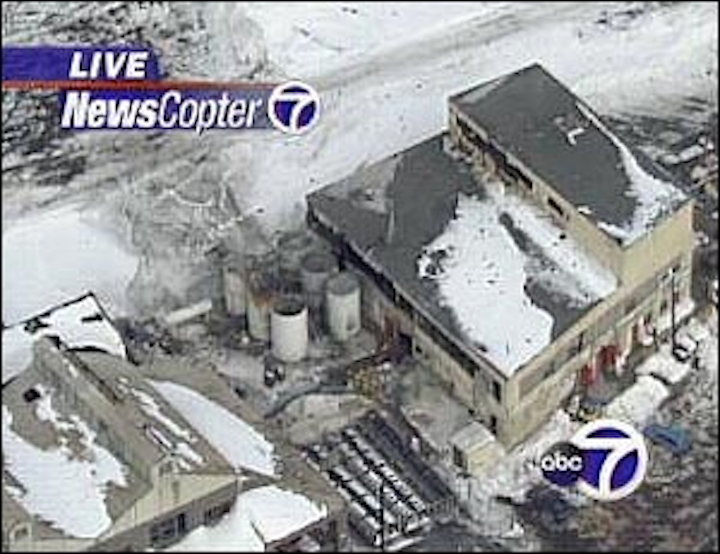 WABC - New York
Images From the Story
Eyewitness News Video
(New York -WABC, January 25, 2005 ) -- There was a deadly plant explosion in New Jersey, a blast so powerful that people living on Staten Island felt it. Three workers did not make it out.
New Jersey reporter Anthony Johnson has the story from Perth Amboy.
It has certainly been a tragic day in Perth Amboy because all of the victims are from this community and it appears at this time that about 10:43 this morning there was an earth-shaking explosion when some acetelyne gas was being tranferred from one container to another. Apparently there was some sort of leak in that system.
Two people died on the scene and a third person died at the hospital. This evening family members are trying to deal with the fate of their loved ones.
The tears were flowing outside the hospital as family members of one of the victims found out the awful truth.
Pablo Murillo's family is distraught. He was the youngest of thirteen children and many of them came to the hospital or to the scene of the accident to find out exactly what happened.
At least two of the Murillo family members worked at the Acetylene Service Company and one brother - Steven Murillo - said he quit the company a couple of years because he thought it was too dangerous.
Pablo's wife was pregnant with the couple's first child. As elderly parents came to the emergency room and into the arms of family members they were overcome with emotion.
Officials say they're still investigating but say that at this point it appears a tragic accident.
Joseph Vas, Perth Amboy Mayor: "I would like to first of all convey my condolences to all of the families who've been affected by this accident. Our hearts and prayers are with them and we can certainly sympathasize with their loss."
Pablo Murillo's birthday was supposed to be tomorrow but now his family is planning for a funeral. The second victim who died inside the plant was Enio Perez. The third victim - German Gonzalez Vasquez - died at the hospital. A fourth victim - Giovanni Pena Gomez - has been listed in critical condition at Robert Woods Johnson Hospital. Eight other people were also taken to the hospital but their injuries are considered minor.
The facility, located on the Arthur Kill River about 25 miles south of New York City, provides liquid chemical and petroleum storage and handling, as well as dry-bulk handling of salt and aggregates.