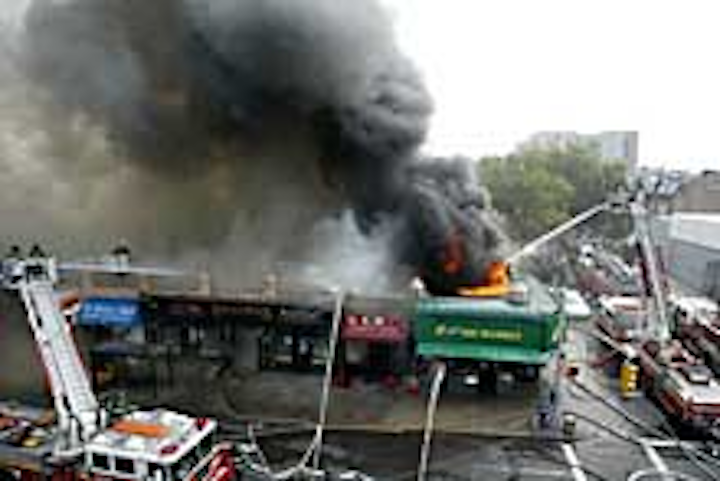 Brigitte Stelzer / NY Post
August 22, 2003 -- A towering four-alarm fire raged through a row of Queens storefronts yesterday, gutting several shops and covering the surrounding streets in a cloud of smoke.
The blaze started around 2:10 p.m. in the kitchen of Bloom's Pub on 41st Street and Queens Boulevard in Sunnyside, fire officials said. It quickly spread through the air ducts to the surrounding businesses.
Seventeen firefighters and one cop suffered minor injuries, officials said. No one else was injured.
No. 7 subway service was disrupted for several hours. The cause was undetermined.
"It was hell. There were flames all over," said Ignacio Martinez, who was buying groceries at Nano's Sun Market when he saw "a wall of smoke and fire coming from the cellar."
At one point, the flames were shooting 30 feet into the air and the smoke blanketed the surrounding streets, choking the hordes of curiosity-seekers who had gathered to witness the destruction.
Heartbroken shopkeepers huddled in the Burger King across the street, consoling each other over the loss of their businesses.
"I'm devastated," said the weeping owner of Nano's, which was left in ruins.
Also destroyed by the inferno were a laundry, a Dunkin' Donuts and a butcher shop.