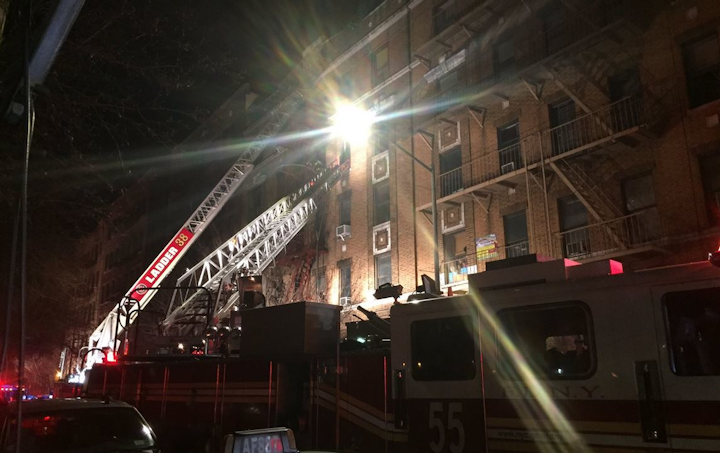 FDNY
Authorities believe that a young child playing with a stove apparently caused one of New York's deadliest fires Thursday where 12 people — four of them children — were killed in what investigators said was an accidental blaze that swept through a Bronx apartment building, officials said.
Other than the 9/11 terror attack, it was the deadliest New York City fire since the 1990 Happy Land Social Club inferno, officials said.
The fire appeared to be accidental, Mayor Bill de Blasio said Friday morning in his regularly scheduled WYNC radio address.
"What we think at this point is that, unfortunately, it emanated from an accident — a young child playing with a stove on the first floor of the building, and unfortunately it's the worst of circumstances that the fire beginning on the first floor set up a situation where it spread rapidly upward, accidental from everything we can see," de Blasio said.
"It seems like a horrible, tragic accident — a fire that spread very, very quickly and took so many lives" de Blasio said. "There was nothing problematic about the building that contributed to this tragedy."
Four others were critically injured, city officials said.
FDNY Fire Commissioner Daniel A. Nigro said the fire was apparently started by a 3-year-old playing with the burners on a gas stove in a first-floor apartment. The child's mother was in another room and fled with her two children when she saw the fire in her kitchen, leaving the door to the apartment open.
"Before the mother knew it, this fire had gotten a hold of the kitchen. A lot of fire, a lot of smoke," he said.
Nigro said the boy had a history of playing with the burners and turning them on.
The fire quickly spread through the building and stairwells, Nigro said.
"This fire quickly spread up the stairs," Nigro said. "The fire travels up. The stairway acted like a chimney. It took the fire so quickly upstairs that people had very little time to react.
They couldn't get back down the stairs; those that tried perished."
Nigro said he was sure smoke detectors were installed in the building, however, "whether they were all working at the time, we're still determining that." It was the worst residential fire in the city since March 2007, when 10 people, including nine children, died after an overheated space-heater cord caused a fire that tore through a four-story home in the Bronx. In 1990, 87 people were killed in the inferno at the Happy Land Social Club.
City officials said Friday that the search of the five-story walk-up on Prospect Avenue was complete. The scene is about a block from the west side of the Bronx Zoo.
Nigro said the firefighters were within minutes on the scene, where flames started on the first floor just before 6:55 p.m. The flames quickly spread to the upper floors of the building, which has 25 apartments. In temperatures approaching zero degrees, 39 units and 175 firefighters battled the five-alarm blaze, fire officials said.
"It's one of the worst losses to life in a fire in many years," de Blasio said from the scene about 10 p.m. "Thank God because of the FDNY's quick response . . . at least 12 people were rescued and will survive."
Early Friday the NYPD listed those who died as 1-year-old, 2-year-old and 7-year-old girls and an unidentified male child; three women 19, 37 and 63 years old, and an unidentified woman; and four men who remain unidentified.
The youngest female victim, the 63-year-old woman and three adult males were pronounced dead at the scene by EMS, the NYPD said, while the other two girls, the 19-year-old, the 37-year-old woman and another female were pronounced dead at Saint Barnabas Hospital. The unidentified male child and another adult male were pronounced dead at Jacobi Medical Center.
Resident Elaine Williams, who lives on the first floor, said she lost four members of her family, her daughter, sister and two nieces. She has a brother-in-law who was badly burned and is unconscious. Relatives identified the victims as Williams' daughter, Shante Young, 19; her sister, Karen Stewart, 37; and nieces Kelly Francis, 6, and Kiley Francis, 2.
"My daughter, my sister and my two nieces — dead," Williams said. "I was down the block; I was at work. I was coming home when I hear the phone ring and I answer it and they said the building is on fire and I rushed to get home.
"I was calling my daughter to see where she is. She was upstairs with her aunt so she got caught in the fire too."
Williams said she immediately went to Jacobi hospital. "That's when I find out they're all dead," she said. "I don't hear nothing they say they're investigating. I need to go back inside to get things.
"I feel so empty. I feel so lost. Standing right here my soul is gone. Four in one family? C'mon now. I don't wish that on my worst enemy."
Resident Shevon Stewart, 44, said her brother-in-law was killed in the fire. She was in her apartment watching television when she heard the fire alarm sound.
"That night I hear the alarm going off but I wasn't paying attention to it," Stewart said. "Then I hear a lady say 'Fire, fire, fire.' "
"I open my door and when I open my door and come out when I look and see lot of smoke."
She said she alerted others and they went outside. That's when she saw them taking out victims. The first was her brother-in-law followed by the rest of her family.
"I saw them take out her husband and put him outside burned all over. Burned, burned, burned," she said. "And they started bringing them out one by one. It's hard to take. It's really, really hard to take."
Six firefighters and one emergency medical technician also were treated for minor injuries, a fire official said.
"I think it is about something all of us as parents grapple with all the time, which is how to keep our kids away from fire," de Blasio said. "We all know this is a very sad reality that young kids get attracted to fire and play with it thinking it's innocent when it's not . . . it's really tough to keep an eye on your children at every single second of every day."
According to property records, the building and the adjacent one are owned by D & A Equities, Inc. The two buildings have a combined 37 open violations, according to city housing records. Twenty-eight of those violations are defined as "hazardous" and include inadequate supply of gas to the kitchen to several apartments and faulty electrical outlets at the adjacent building. Violations from August 2017 shows overdue on a repair/replace carbon monoxide and smoke detector on the first floor.
Ronn Torossian, a spokesman for D&A Equities, issued a statement Friday saying that "We are shocked and saddened at the loss of life and injuries which occurred. Our prayers and thoughts are with the families affected. The landlord is communicating with the City of New York and associated agencies."
One resident, security guard Thierno Diallo, 59, said he was sleeping in his basement apartment and was awakened by banging on the door and screams of "fire, fire, fire, get out!" He said that as he ran out, glass rained down on him.
"I just came out in my bathrobe," Diallo said. "I did everything to save my life . . . I left with no socks, nothing.
"Somebody from next door gave me socks."
Another resident, Diana Reyes, who lives in apartment 12, took the fire escape to flee the flames and helped bring down someone else's two children, according to Robert Gonzales, a friend of Reyes.
She was taken to a Red Cross shelter.
"I know that she's safe at least," said Gonzales, of the Bronx.
City officials opened a nearby school on Crotona Avenue to serve as a shelter and information center. The Red Cross was also at the scene to provide housing and other help.
Javier Negron, a longtime Bronx resident who works as a school aide supervisor for the city Department of Education, carried a black athletic bag filled with coats, jackets and sneakers.
He said the news of the fire "broke my heart, especially since it happened this time of the year. With all the chaos in the world, I decided I could help. I grabbed things I no longer use and brought them here. This could be me, this could be you. It could be anyone.
"I don't have much but I'm happy to share it. It feels good to be able to help," he said.
With Candice Ferrette, John Valenti, Joan Gralla, Michael O'Keeffe and Pervaiz Shallwani
———
©2017 Newsday
Visit Newsday at www.newsday.com
Distributed by Tribune Content Agency, LLC.