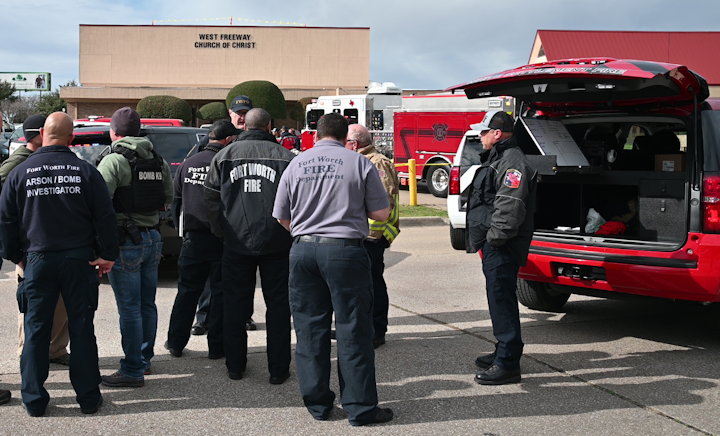 Glen E. Ellman/FortWorthFire.net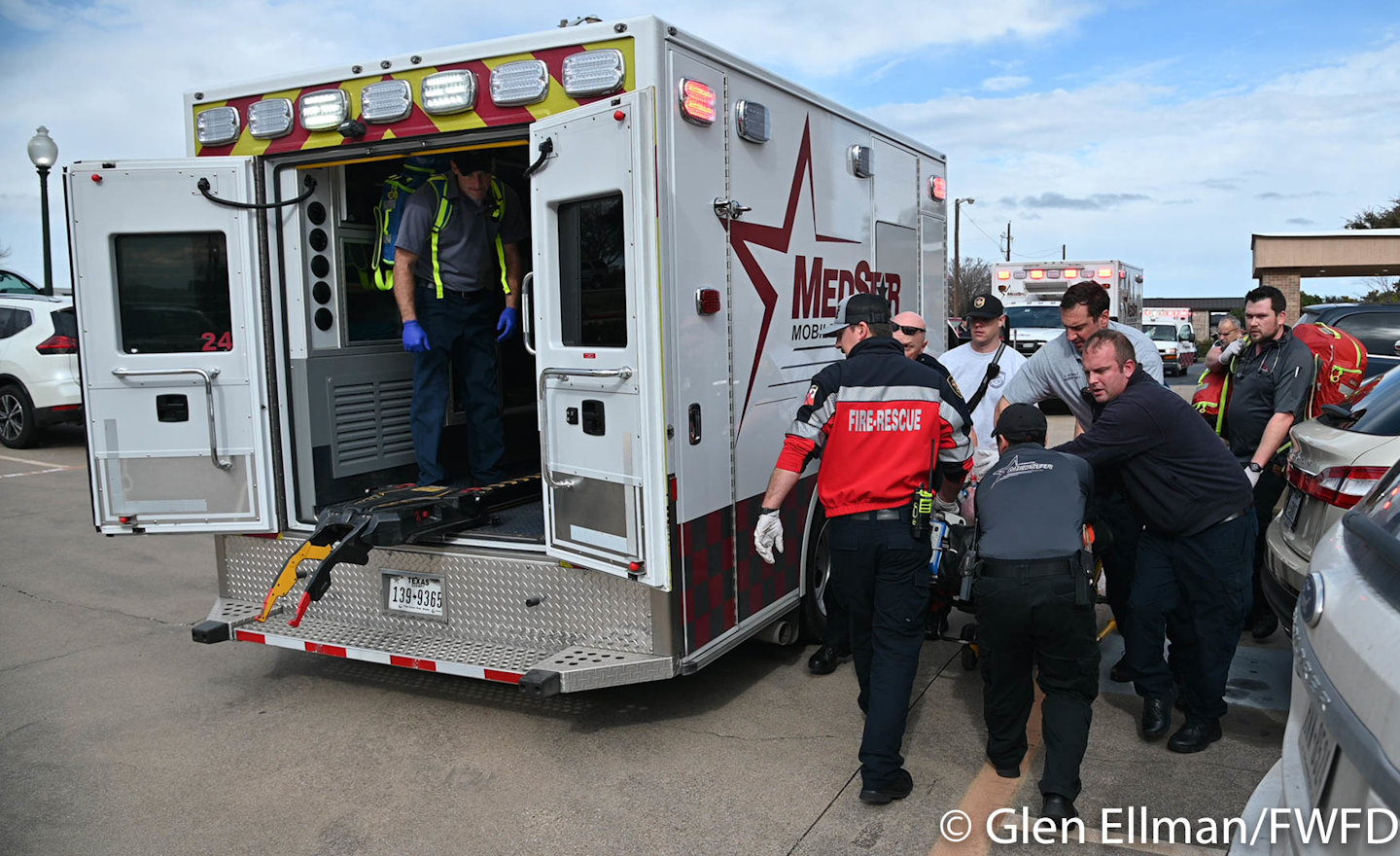 White Settlement and Fort Worth firefighters work with Medstar crews to move a shooting victim to the ambulance at the West Freeway Church of Christ on Dec. 29, 2019.Glen E. Ellman/FortWorthFire.netThe first group firefighters who responded to the deadly church shooting in White Settlement, TX, on Dec. 29 said it's only a matter of time before something similar happens in another community and asked that other fire departments prepare for it.
The White Settlement Fire Department protects five square miles of city and more than a dozen miles of Tarrant County on the west side of Fort Worth. Staffing is one officer and four firefighters who responded with an engine and a pickup equipped for rescue and EMS responses that is called Rescue 18. Also in the station are additional apparatus, including an engine, tanker and aerial.
After a gunman opened fire, striking two people inside the West Freeway Church of Christ, a member of the church's security detail returned fire and struck the gunman, leaving three wounded on the floor of the sanctuary.
Rescue 18, staffed by two firefighters, was dispatched to a gunshot wound when three others, including Capt. David Kostyak, boarded Engine 18 and followed behind. 
"As we were responding, one of the PD officers came across our radio, frantic,"  Kostyak said. "My thought was, with that chaos, there might have been an officer down."
Radio traffic indicated that two to three people were down with one possibly dead on scene. Police said the active shooter had been neutralized.
"When we got there, there was nobody out in the parking lot," Kostyak said. "There was a lot of PD cars everywhere and we didn't know where we were going."
Firefighters had begun a scene assessment to determine what was going when a police officer waved them to the interior.
Firefighter/EMT Travis Broom, the first firefighter inside in the church, called the scene a "little crazy" as police officers were still sorting out the details.
There were close to 120 people inside the church when the shooting happened. They were moved to the lobby and a police officer was assigned to limit access from the lobby to the scene inside the sanctuary. Many of them were in shock, Broom recalled.
"We had the officers helping the patients, some of the civilians were holding pressure on the wounds," recalled Engineer Nick Campbell. "There was a lot of people in that room."
Firefighters conducted a rapid triage of the three patients on the ground. Police were performing CPR on one victim and others were tending to two others.
Koystak had assumed command and joined crews inside to assist with patient care.
In the first few moments there was confusion because it was said the shooter was dead and then police identified another man as a "shooter," but it was determined that he was the member of the security detail that returned fire at the shooter.
"There was still some regard to scene safety because everybody was mixed around," Assistant Chief Brandon Logan said, "despite the fact that the gunman had been wounded."
He added that there were three guns—two on the ground and one on a windowsill—and they asked police to secure them for scene safety.
Establishing formal command
Logan arrived and assumed command, and once he completed a size-up he coordinated with the Medstar EMS supervisor about patient care and transport and they requested additional ambulances.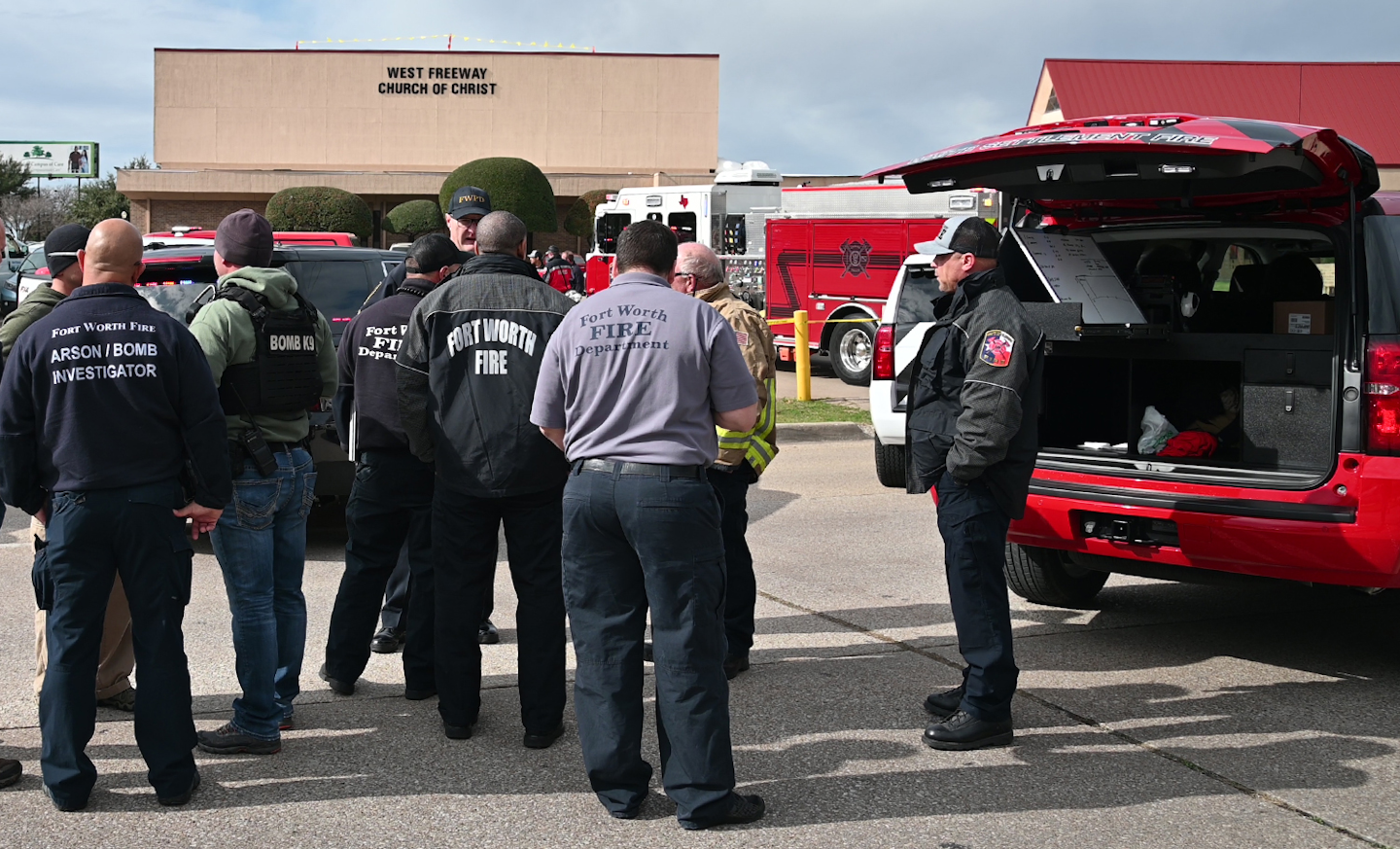 White Settlement Assistant Fire Chief Brandon Logan assumed command at his chief's vehicle early into the incident.Glen E. Ellman/FortWorthFire.netLogan called for mutual aid from the Fort Worth Fire Department, which dispatched three engines, a quint, one battalion chief, an EMS unit and a deputy chief.
"Our guys were spread out thin and we needed some help with patient care and scene safety."
Firefighters from Engine 23 and Quint 23—located a mile from the scene—arrived quickly and split up to assist White Settlement firefighters and Medstar crews with the shooting victims. Subsequent units tended to two congregants who were trampled when people were attempting to flee.
"Everybody had hands-on," said Campbell.
Logan and Fort Worth Police Chief Ed Krause established command at the rear of Logan's command vehicle to track crews and determine what other resources were needed. A single operations channel was established for all units.
Once the unified command post was set up, Logan said it helped each agency establish a structure to handle their tasks, from patient care and transport to scene safety the ensuring that all witnesses to the shooting remained on scene.
Firefighters from both departments rode the Medstar ambulances to the hosptials to assist with patient care efforts.
Secondary threats
With additional fire and law units on scene, command wanted to address any concerns for secondary threats, including explosives.
Fort Worth's arson investigators, who are also peace officers, responded with K-9 partners. They were utilized to search the interior and exterior for any possible secondary threats.
The afternoon
Local enforcement officials determined they needed to move all the congregants from the scene to interview them, and that's when the unified command team contacted the resources needed to get them to a nearby school.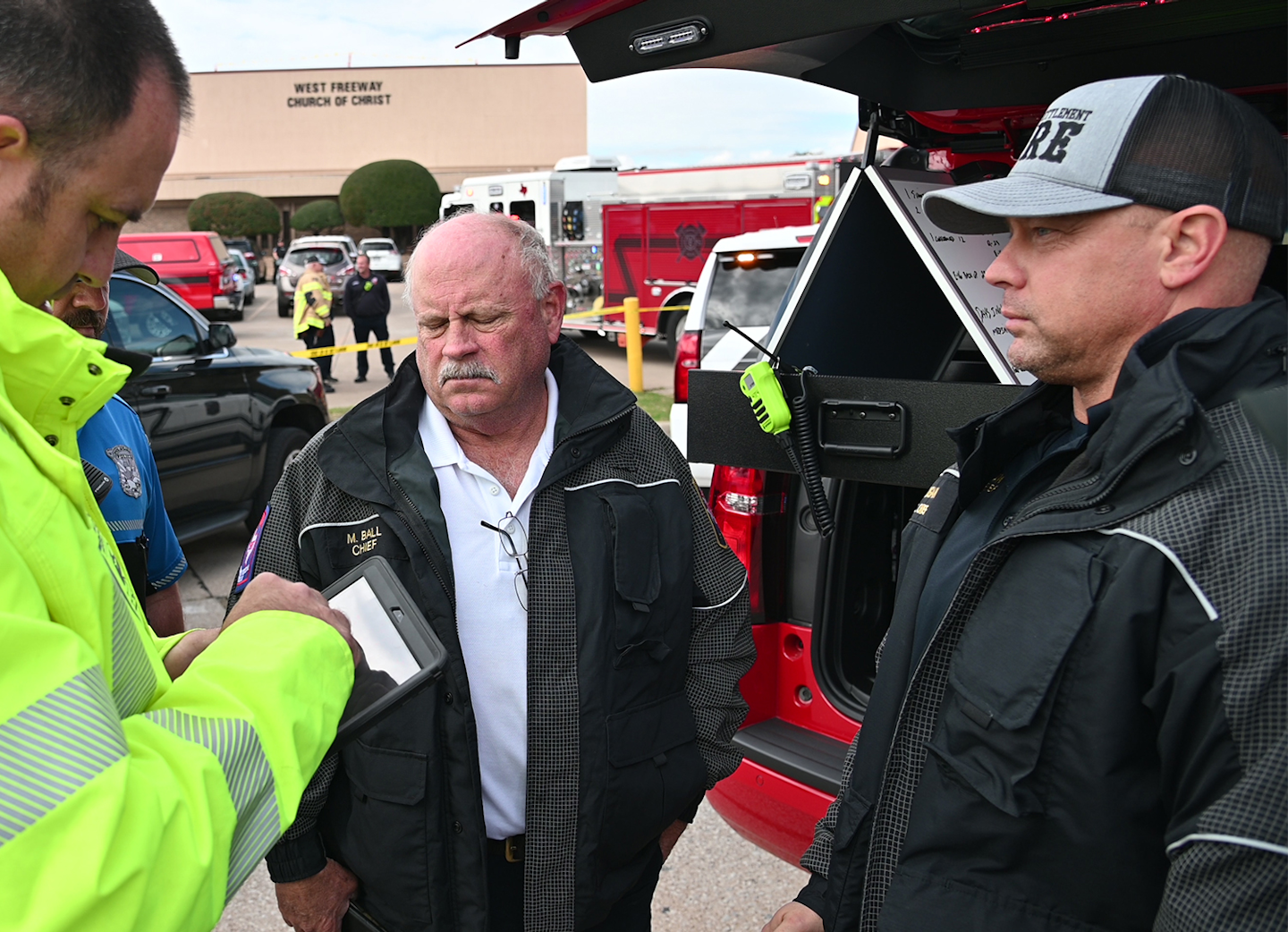 White Settlement Fire Chief Mark Ball (center) and Assistant Chief Brandon Logan talk with Fort Worth Fire Department Public Information Officer Mike Drivdahl.Glen E. Ellman/FortWorthFire.netWith all on-duty White Settlement firefighters tied up, off-duty firefighters were called in to staff additional apparatus to cover the city.
One of those crews was assigned to the school to assist police with moving the witnesses around and was prepared for any people who may have fallen ill.
Once the FBI and ATF arrived, White Settlement Fire crews cleaned up the scene and returned to the station around 6 p.m.
Back at their station, they held a debriefing to discuss what happened at the incident scene. 
All told, White Settlement firefighters had contact with nine patients, including three gunshot victims, two elderly people who were trampled during the escape from the sanctuary and four others with varying conditions.
Training with other agencies
White Settlement fire and police crews already train together quarterly, often using table-top scenarios that allow responders to discuss tactics with each other so they understand how each side carries out its tasks.
White Settlement Fire Chief Mark Ball, who retired from Fort Worth, had already talked with staff about developing an active shooter training program with various agencies, and they were working to complete that when the shooting happened. That training was to include outside resources, such as Fort Worth fire and police, along with other mutual aid partners.
"With the way we worked together (as the church shooting), you would think we work together every day," Logan added.
Lessons learned or reinforced
"For as bad as it was, I was expecting it to be worse," Campbell recalled.
Fire departments are accustomed to establishing command at incidents while law enforcement usually work on their own, so they stressed the need to establish command early. The initial command post allowed commanders to step back and organize the scene and priorities related to the incident.
Establishing command is a critical step in bringing the multi-agency into a controlled situation, Logan said. "You come in and try to re-establish some sort of order."
Firefighters in White Settlement are no strangers to shooting responses, but this incident was outside the scope of the norm for them. This included multiple patients, the dozens of congregants who were frantic, and non-first responders involved in patient care, plus multiple guns at the scene.
"It was hard not to get tunnel vision," Campbell said of the first few minutes at the scene where the focus was solely on patient care.
Establishing scene safety was a priority, but with so many things going on and limited responders on scene, the focus was initially patient care.
"Looking back, taking time and surveying more of what was going on is for scene safety," Kosyak said, adding that there was the need for vigilance with any secondary threats.
Ball and Logan said mutual aid was important to get the resources at the scene quickly and those need to be established long before the incident occurs. That includes discussions about responses, tactics and communications.
"If it's a smaller city, comparable to our size and if you think ahead and have your mutual aid in place so that when something happens you're not trying to determine what you need, that's important," Logan said. "Fort Worth was there within moments of us calling them."
"We hope this helps other departments our size," said Ball, adding most departments in the country are smaller with limited resources.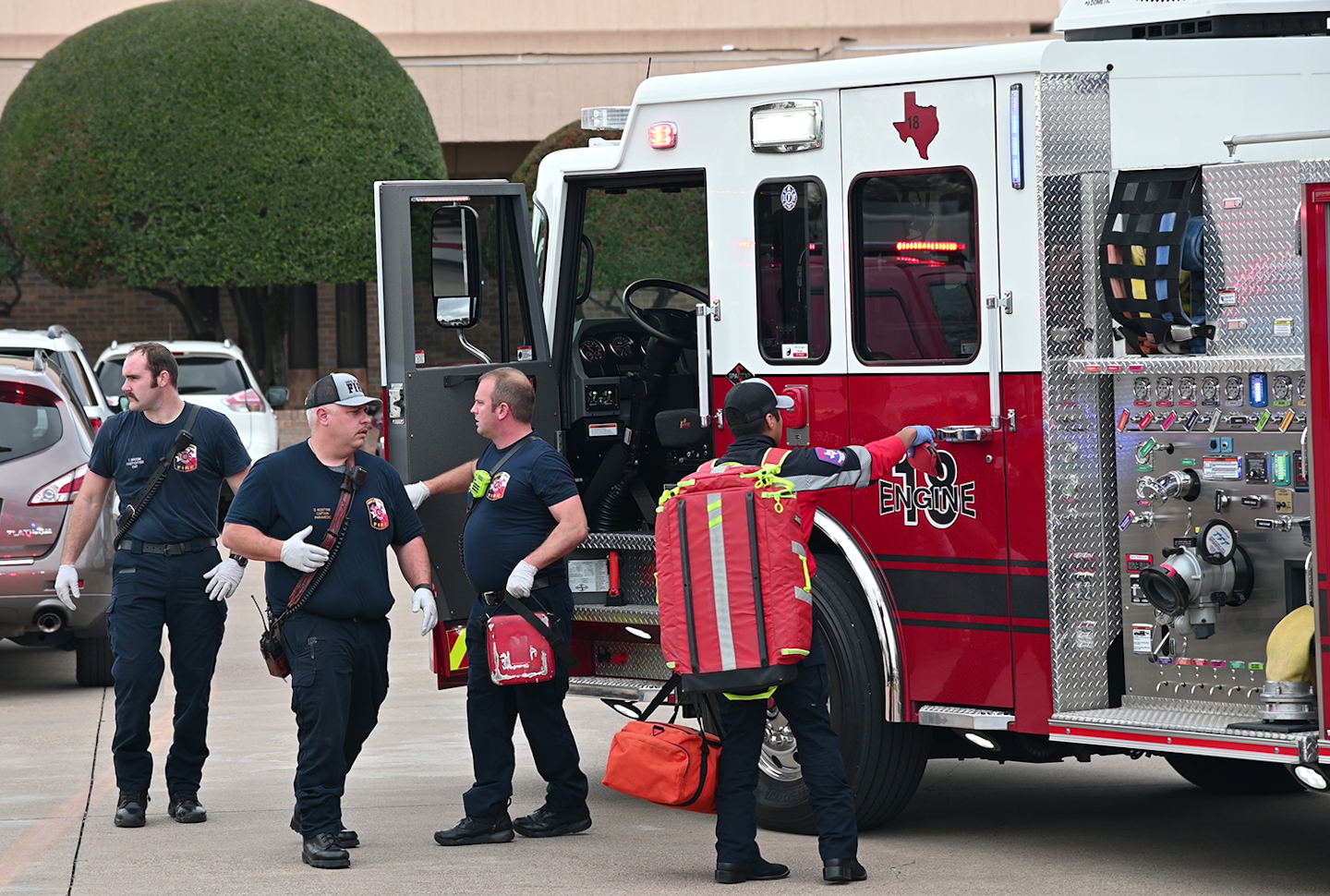 White Settlement firefighters return their equipment to Engine 18 after treating victims at the West Freeway Church of Christ.Glen E. Ellman/FortWorthFire.net