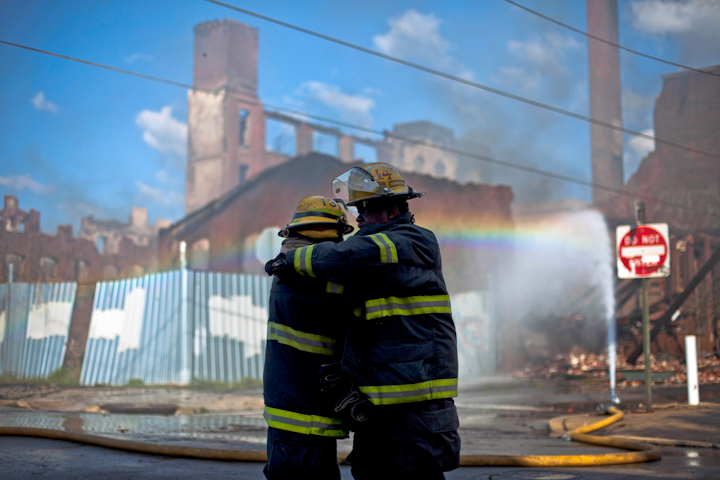 AP Photo/Matt Rourke
Two firefighters were killed Monday when a furniture store adjacent to a burning warehouse collapsed while they were inspecting it, the Associated Press reports. 
Lt. Robert Neary, 60, and Firefighter Daniel Sweeney, 25, were buried in a pile of debris and it took about two hours to extract the bodies. Two additional firefighters were rescued and treated for non-life-threatening injuries.
"We are deeply saddened by the loss of these two firefighters," Mayor Michael Nutter told the media. "It just hurts a great, great deal."
The firefighters were trying to make sure the blaze was extinguished at the furniture store, where the flames had spread, Fire Commissioner Lloyd Ayers explained. 
Hot embers also reportedly sparked fires that damaged six nearby homes.
The firefighters were both respected members of the department and had been commended for numerous rescues, Ayers told the media.
Neary was a 37-year veteran of the fire department who had served in the Army reserves from 1972 to 1982 and worked as a police officer before joining the fire department, the Associated Press reported. He is survived by his wife, two grown sons and a grown daughter.
He was described as a mentor to younger firefighters. 
"He was just a great guy, knew the job very well," Timothy McShea, vice president of the firefighters union, told the media. "He's like one of these old-school guys. They just have a second sense about them."
Sweeney was single and is survived by his parents. His father is recently retired fire Capt. David Sweeney.
McShea described him as "a good young lad" and "a young, aggressive firefighter."
The cause of the blaze was not immediately determined, though the building's corporate owner had reportedly been cited four times.
Ayers said that the community was providing the fire department much support.
"Just as we give service to our citizens," Ayers told the media, "they're serving us right now."