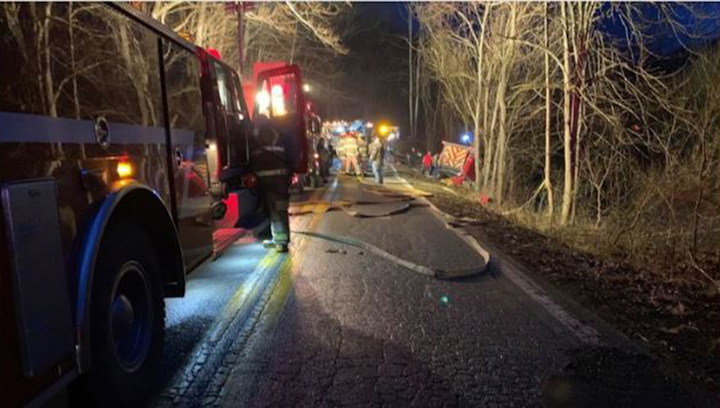 WCHS Screenshot
A Spencer Roane firefighter was killed in a rollover crash Saturday afternoon.
Mark Horwich was driving a rig a reported structure fire when it left the road and ended up on its roof in a creek on Sandy Road Newton, Roane County dispatchers told WCHS.com.
"Unfortunately our community has been no stranger to tragedy as of late, and Saturday, January 11, 2020, it struck again. We lost a brave member of the Spencer Roane Volunteer Fire Department, a father, a husband, and wonderful resident of Spencer when his firetruck left the road and his life was ended far too soon while responding to a fire," the City of Spencer posted on their Facebook page. "His family, his fire department, and our community is devastated by this sudden tragedy. From all of us at the City of Spencer, we extend our sincerest condolences to the loved ones of Mark Horwich. You have our hearts."
"Our volunteer firefighters are some of the most incredible WVians we have, because they run toward danger to protect us – out of the goodness of their hearts," West Virginia Governor Jim Justice posted on Twitter. "We lost one of these brave men tonight at the Clover VFD in Roane County."
Horwich leaves behind a wife and two children.
He was the owner of Fire Station Software, a Spencer-based business that provided fire departments with record keeping solutions. 
"Mark Horwich was a dedicated man who loved his family dearly, loved the fire service, and he loved this business which he started from scratch and grew to what it is today," his wife, Sarah Ferrell Horwich, posted on the business Facebook page. "As for the business, please allow for grace as I take on more responsibilities that were once his. I will not be returning any calls or emails for a few days as our family adjusts to his absence and makes funeral arrangements.