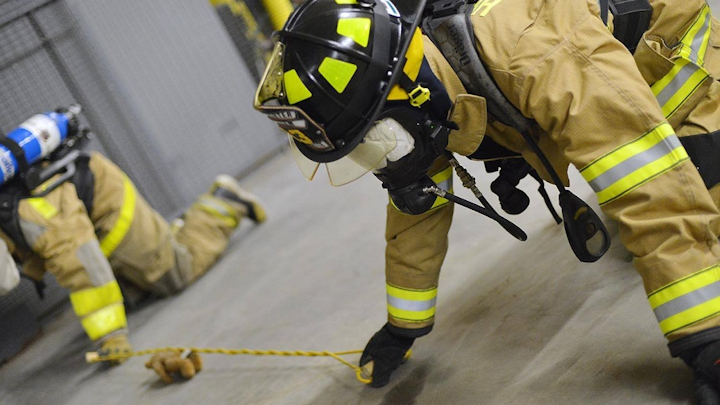 Haddam, CT, Volunteer Fire Company
HADDAM — Volunteers of the local fire company participated in a drill known as "Jeff's Box" Jan. 14, which involves working with a partner to sweep an enclosed area and find and identify five objects — all while blindfolded.
Participants must also be "on air" or equipped with self-contained breathing apparatus, according to a press release from Haddam Volunteer Fire Co.
The drill was created three years ago by Firefighter Jeff Doskos. It helps firefighters develop a clear thought process, communicate, reinforce the sense of touch with a gloved hand, and manage their air consumption and spatial awareness, according to the fire station's Facebook page.
"Traditional training on search and rescue operations usually involve the rapid entry into a structure or room with a rapid search and removal of any located victims. Although this approach mimics an actual search and rescue incident, I found that there were training points that could be developed by the box scenario," Doskos said in a prepared statement.
During this drill, members searched for two commonly used firefighting tools, a teddy bear, flashlight, and ultimately an appliance with numerous fittings attached to it. One firefighter removed each fitting and handed it over to the other, who reassembled the appliance, according to officials.
"The team needs to be aware of where they are in the room, how much air they have consumed, how many items they have already found, and communicate with each other regarding these found objects," Doskos said.
"I believe that this type of training helps firefighters feel more comfortable in an odd and stressful environment, which leads to safer decisions on the fire ground," he added.
———
©2019 The Middletown Press, Conn.
Visit The Middletown Press, Conn. at www.middletownpress.com
Distributed by Tribune Content Agency, LLC.