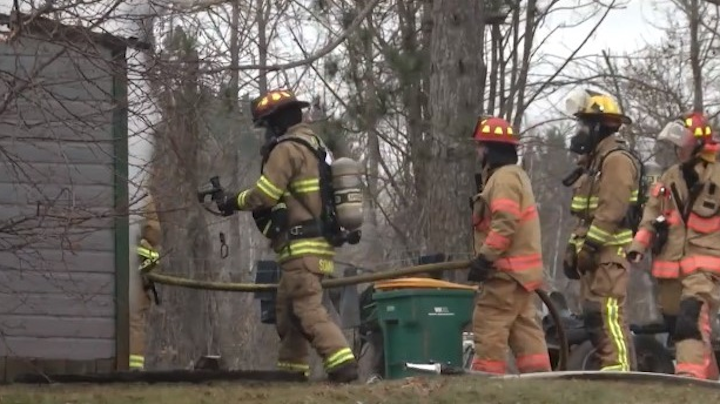 WDIO-TV Screen Shot
Around 6:22 a.m. Tuesday, Ryan Linn was on his way to work when he pulled up to the stop sign at Howard Gnesen and Martin roads. He saw flames through some pine trees and decided to investigate. That's when he saw flames coming out of a small window of a one-story home.
Linn, who has been a volunteer firefighter for Normanna Township for four years, told the News Tribune he immediately pulled over and called 9-1-1.
"I told (dispatch) that I believed nobody was home because there were no cars in the yard or lights on," he said. "After I hung up I got out of the truck and walked around. When I looked over at the back door, there was a guy standing just outside the door in the smoke."
Linn said he told the man that he needed to get out of there and move away from the house. The man told Linn there were two more inside.
"So then I knelt down and went into the house a little bit, about 5 feet, and grabbed the guy by the lower part of his jacket and I pulled him down — he was standing in the smoke trying to catch his breath — I pushed him toward the door and told him he needed to get out of there," Linn said.
That man told Linn there was still one more person in the home that he couldn't get out. Linn said that while he was on his stomach and with his foot holding the door open he began swiping his hand back and forth but couldn't reach him.
"He kept yelling at me, and I was talking to him but I couldn't see him," Linn said.
Linn said he felt something leaning against the wall, so he pushed it down so it kept the door open, then slid his foot across it, so he knew where he was. Linn was able to get another 5 feet into the house and stretched as far as he possibly could, he said.
"I just felt skin, grabbed him and I just pulled," Linn said.
Linn said he didn't have his firefighter gear with him Tuesday morning, but his instinct was to help anyway.
"I knew it was wrong. I knew 100% that I shouldn't be going in," Linn said. "But when push comes to shove, there was a guy yelling, and he sounded close, and I was going to try and get him out."
Linn said he knew he wouldn't be able to go very far into the house without his gear.
"It was so thick, the smoke was right down to the floor," Linn said.
Linn carried the last man out of the house. Not long after, the fire departments showed up. A St. Louis County Sheriff's deputy was on scene by the time Linn got the first man out of the house.
"Linn's bravery and quick actions undoubtedly saved the lives of one if not both of the men that were still in the residence when he stopped," a news release from the St. Louis County Sheriff's Office said.
Linn and two of the residents were transported to a local hospital to be treated for smoke inhalation. Full recoveries are expected for all three men. Linn said he was given an inhaler, but he was doing fine.
"I didn't expect any of that this morning," Linn said. "I just hope all the men are OK."
While parts of the structure are still standing, the home is considered a total loss, according to the Sheriff's Office.
The Sheriff's Office and the State Fire Marshal's Office are investigating the incident. Portable propane heaters not intended for indoor use were being used to heat the home. They are believed to have caused the fire.
Responding agencies included Air National Guard Fire, Canosia Fire Department, Lakewood Fire Department and Mayo Clinic Ambulance.
———
©2019 the Duluth News Tribune (Duluth, Minn.)
Visit the Duluth News Tribune (Duluth, Minn.) at www.duluthnewstribune.com
Distributed by Tribune Content Agency, LLC.