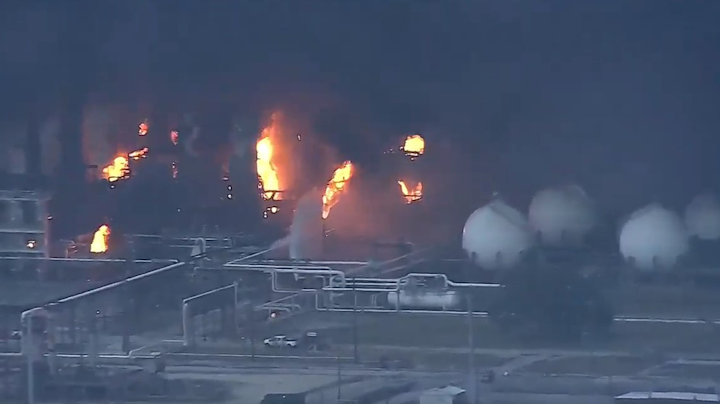 KBMT-TV Screen Shot
A massive explosion at a Texas chemical plant injured at least three people and caused evacuations around the surrounding area early Wednesday.
The blast occurred at around 1 a.m. at the TPC Group Plant in Port Neches, which is near the Louisiana border, the company that owns the facility said in a statement. Help was requested from the Port Neches Fire Department and the Sabine Neches Chiefs Association, as well as the Huntsman corporation.
One person suffered burns from the explosion and was airlifted to a Houston Hospital, KBMT-TV reports. Another person broke an arm, but details concerning the injuries of the third person were not released. No fatalities have been reported.
"We're thankful. That's amazing the way it looks out here, Jefferson County Judge Jeff Branick told KMBT concerning the limited number of injuries and lack of fatalities.
According to KFDM-TV, the plant produces butadiene and raffinate, a colorless substances used in the process to make synthetic rubber and plastic. The explosion released a chemical plume, and authorities have issued a mandatory evacuation for homes and businesses within a half-mile radius of the plant.
Some areas, such as Orange County and the city of Grove, called for a shelter in place, which orders residents to stay inside with the windows closed and fans and air conditioners turned off. Grove lifted that order at 6:30 a.m.
"Right now our focus is on protecting the safety of responders and the public, and minimizing any impact to the environment. More information will be updated as soon as it is available," TPC Group stated.