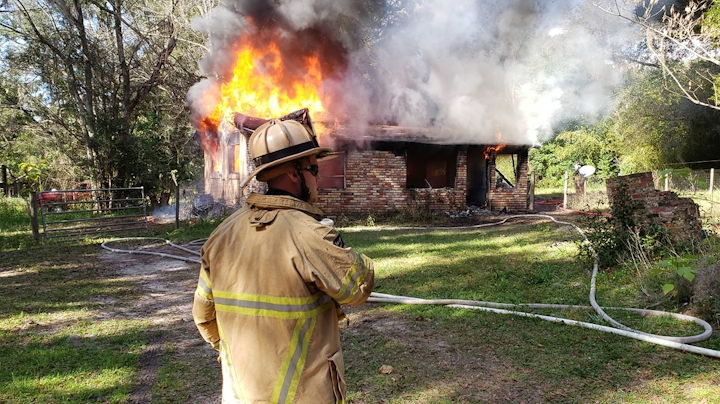 Marion County, FL, Fire Rescue
A Florida district fire captain was injured after coming in contact with a live power line during a fatal two-alarm blaze Monday.
Marion County Fire Rescue crews responded to a house fire that broke out just after 11 a.m. in Citra, according to the department. Multiple 9-1-1 calls says explosions could be heard and a resident was trapped inside the burning structure.
Once at the scene, another resident confirmed to firefighters that someone was still inside the house. Crews then began deploying two hose lines to begin battling the flames.
District Capt. Chris Hays conducted a 360-degree inspection of the scene, but as he was finishing it up, he touched a live power line, which knocked him to the ground, the department said. He was then taken to the hospital in stable condition.
More than 40 firefighters were called in, and crews eventually were able to battle back the flames enough to enter the house. The resident inside was declared dead, and the blaze was under control just after 11:30 a.m.
Hays was released from the hospital Monday night and is recovering at home. He's expected to return to duty next week, the department added.