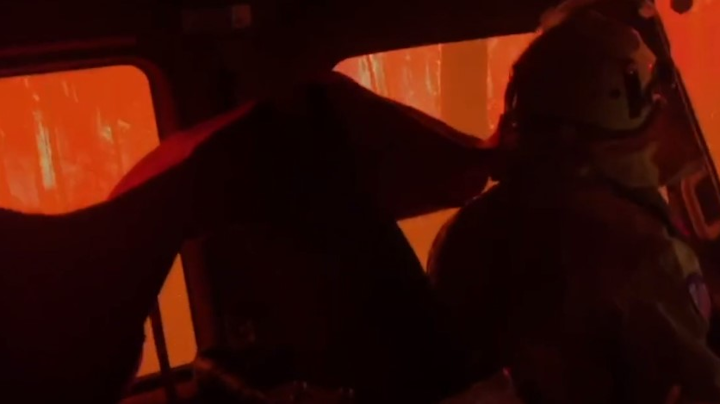 New South Wales, Australia, Rural Fire Service Screen Shot
The Australian firefighters who were caught in a burnover while battling a bushfire in New South Wales on Tuesday were able to protect themselves and survive the deadly flames, which engulfed one apparatus.
In a video by the New South Wales Rural Fire Service, the firefighters of Strike Team Pump 48 discussed how they were able to escape the treacherous situation. 
"At the time it was quite chaotic," Capt. Kayle Barton said. "And we had to wait for the fire front to pass."
When Barton radioed command, he said that the apparatus had been overrun, and his crew needed "immediate help." Barton also explained he wasn't sure "how much longer we can be sheltered."
"The fire front here came suddenly in less than 30 seconds. … It rose up higher than the treetops and came over us," Barton said in the video. "By that time, we were trying to turn our pumpers around and make our way and by that point the fire front hit us side on."
"I managed to get it in reverse and perform the U-turn to try to get us out of here. But as I soon as I did that, our truck stopped and wouldn't drive," added firefighter Chris Towe, the pumper's driver.
Firefighters in one apparatus used fire blankets and placed them over the windows, Barton, Towe and the firefighters in the other pumper fled their vehicle and used fire shelters for protection.
Radio contact eventually lost with Strike Team Pump 48, and rescue crews were afraid what they would find once they reached their colleagues.
"We thought we were going back to recover eight bodies," said firefighter Jason Rutherford, who was part of the rescue unit. "As we were going down the road, very, very relieved to see eight flashing helmets walking down the road. They were all safe and sound, so you saw our relief there."