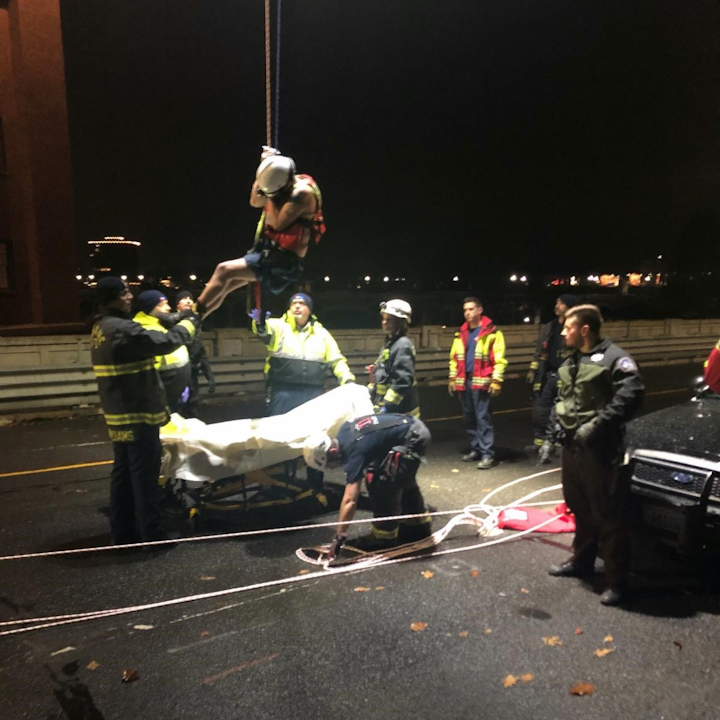 Spokane, WA, Fire Department
Spokane Fire Department crews rescued a man from the Spokane River below the Post Street Bridge early Thursday, after a person near the bridge reported a man screaming for help from the edge of the river just before 1 a.m.
Firefighters located the man with a spotlight at the bottom of a sheer cliff between the upper and lower falls on the south side of the river, according to a news release. Firefighters lowered blankets and other gear to the man, who had been in the water, to keep him warm.
Crews used ropes to lower two firefighters down from the bridge to the man, according to a news release. The firefighters then gave the man medical attention and secured him with a harness and flotation device.
Firefighters lifted the man about 80 feet to the bridge using a mechanical fire engine ladder, according to a news release. The man, who had hypothermia and trauma from an apparent fall, was transported to a hospital after paramedics gave him medical attention.
The Spokane Fire Department said the rescue saved the man's life and was likely the most challenging incident crews responded to this year.
———
©2019 The Spokesman-Review (Spokane, Wash.)
Visit The Spokesman-Review (Spokane, Wash.) at www.spokesman.com
Distributed by Tribune Content Agency, LLC.