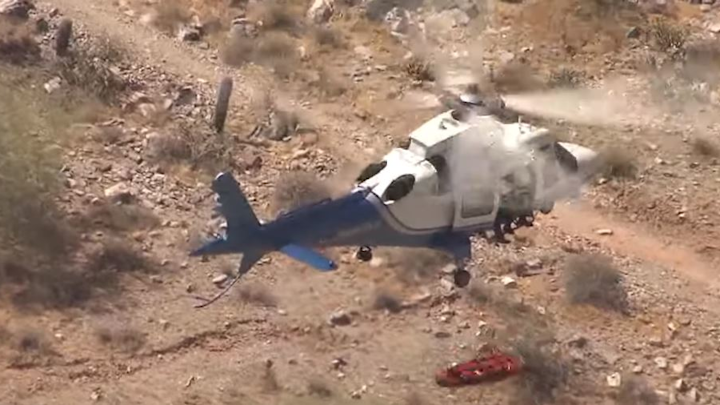 KSAZ-TV Screen Shot
A woman who was taken on a spinning air rescue over the summer is suing the City of Phoenix for $2 million over the experience.
The lawsuit by Katalin Metro claims that she suffered physical, emotional and psychological injuries from the rescue, KSAZ-TV reports. According to the suit, doctors at the hospital found that Metro had swelling and bruising around her eyes, soft tissue swelling over parts of her skull and need spinal cord surgery.
"Katalin Metro's injuries were caused or contributed to by the negligence, negligence per se, gross negligence, carelessness and/or other fault on the part of the City of Phoenix," the lawsuit states.
In June, Phoenix firefighters used a helicopter to transport Metro from Piestewa Peak after she suffered injuries to her face and head following a fall while hiking. As the helicopter flew off, turbulence was caused by the aircraft's rotor, and Metro's stretcher rapidly spun in circles as it dangled high above the ground.
According to her lawsuit, Metro claims she told firefighters at the time that she didn't want to be rescued by helicopter.
The spinning that occurred is a known issue with hoist rescues like the one firefighters performed with Metro, and a special line has stopped that from happening in the past, according to city officials. Unfortunately, the line broke during Metro's rescue.
"Sometimes when we bring the helicopter up from the ground, (the basket) will start to spin," Paul Apolinar, the chief pilot for Phoenix police, told the Washington Post at the time. "We have a line attached to the basket that's supposed to prevent that. Today, it didn't."
Following the rescue, officials said Metro only had some nausea and dizziness from the incident, and she hadn't suffer any further injuries caused by the spinning.
"We're not trying to minimize what happened up there," Fire Capt. Bobby Dubnow said at a press conference Tuesday. "It's something we don't expect, but we anticipate, and we train for it. Nothing happened today that we weren't prepared to deal with."