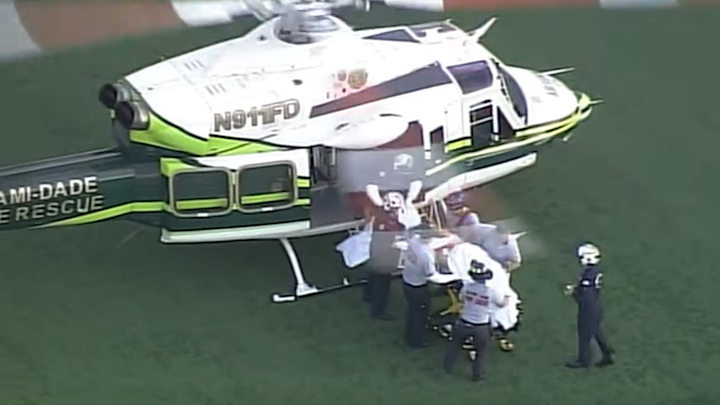 WPLG-TV Screen Shot
A Miami-Dade firefighter was seriously injured Tuesday after falling down an elevator shaft while trying to rescue a person trapped in a stuck car.
According to WSVN-TV, firefighter David Gonzalez suffered traumatic injuries from a long fall and was airlifted to Jackson Memorial Hospital for surgery. Details concerning the injuries were not known.  
The fall happened as crews were responding to a call involving a stalled elevator at the Bal Harbour Shops in Bal Harbour shortly after 7:30 a.m. It's not known what led to the firefighter's fall.
"Just appears that something transpired and fell several feet in an elevator shaft," Miami-Dade Fire Rescue Chief Alan R. Cominsky told WSVN. "Our crews acted swiftly and obviously a very difficult situation. We transported the individual, our fellow brother, here to this facility."
Bal Harbour Police Chief Raleigh Flowers said a joint investigation between police, the fire department and state agencies will try to determine how the fall occurred. He and other first responders were at the hospital following the accident, and Gonzalez's sister said that the firefighter was still in surgery as of 4:30 p.m. as doctors tried to stabilize his condition.
"We're all devastated," Cominsky told WSVN. "I mean, this is the most difficult situation in my job, knowing, you know, one of our individuals are hurt, and so obviously, we're doing our best to [have the firefighter] in the best hands and taken care of and hopefully, a speedy recovery.  This is very difficult, so we have to keep him in our prayers and assist the family."