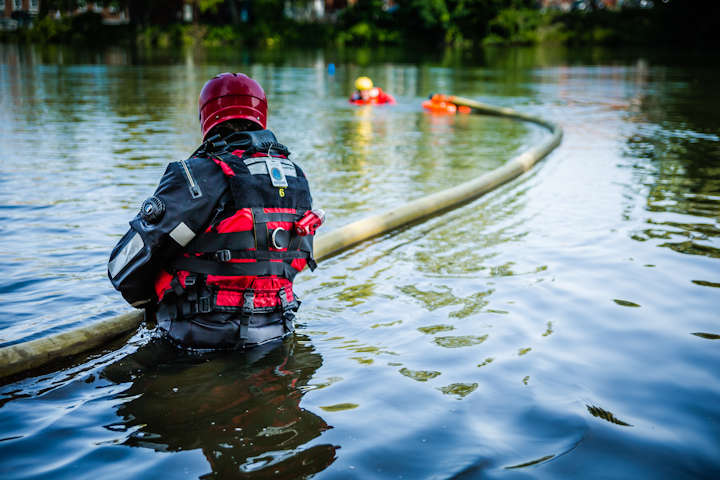 Photo courtesy of Joshua Shanley
It seems like every year the fire service responds to more and more water emergencies—from rescues in static bodies of water, such as ponds and lakes, to swiftwater rescues that involve rivers or flood-control channels, to widespread floods.
The fire service is getting proficient in conducting safe and efficient water rescues across the United States and worldwide. However, most of these rescues happen during the warmer months of the year. If your team members aren't prepared for working in cold environments, they might not be effective—or safe.
ABCs of PPE for water rescue
Water rescues that involve cold temperatures can happen in different parts of the country given different circumstances—from water rescues in Scottsdale, AZ, due to flash floods, to an ice rescue from a frozen pond in Maine. Water rescuers need different PPE to conduct water rescues depending on the current and forecasted temperatures.
In March 2018, Massachusetts regional technical rescue teams were activated by the Massachusetts Emergency Management Agency. Winter Storm Riley was approaching, and potential flooding was predicted for coastal communities. Teams were staged in different communities along the south shore of the state. Although these teams practiced and conducted water rescues previously, they did so during warmer months. Team managers and squad officers had to adjust their normal size-up to account for hypothermia as a potential threat.
For ice rescues and extremely cold water rescues, rescuers need to wear PPE that keeps them buoyant as well as thermally protected. These suits typically are called ice rescue suits. However, an ice rescue suit very well might be avoided for swift-/flood-water rescues, because a rescuer who is wearing an ice rescue suit could lose the ability to swim/ferry through the current. Water rescuers who operate in extremely cold water typically will wear a wet/dry suit, with the option of a thermal liner if they're wearing a dry suit.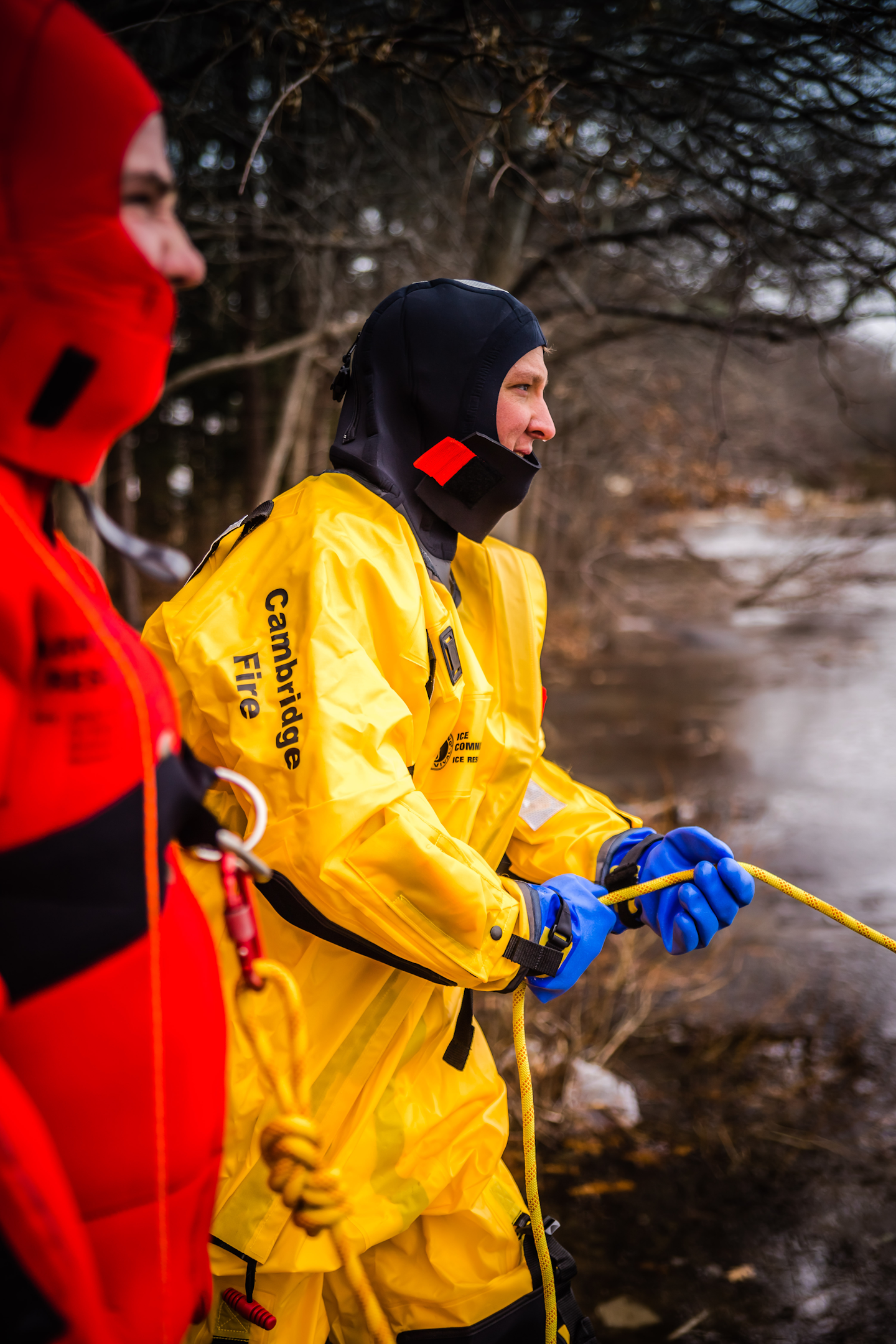 When the combined air/water temperature is less than 120 degrees F, a rescuer should be in a cold water/ice rescue suit. A suit's buoyancy can range from 25–35 lbs.Photo by Mark McCabe
On the other hand, if a wet suit (or dry suit without the thermal layer) is used for an ice rescue and adequate floatation isn't incorporated, buoyancy issues and hypothermia can occur.
Disastrous results for the rescuer are possible in both cases if PPE isn't properly matched to the circumstances.
Does the size-up fit?
Conducting a proper size-up of a community's water hazards is the first step toward preparing for a rescue in a timely fashion—and keeping rescuers safe. Look at areas that have a history of accidents in your community. Recognize and identify specific hazards that are unique to the swiftwater, surf, dive, flood and ice environments in your community. A proper size-up also will determine whether it's a rescue or recovery response. As we have all heard, risk a little to save a little, risk a lot to save a lot.
Once you identify the target hazards in your community, the proper training and PPE that's needed to affect a safe rescue can be identified. The proper PPE is essential to a successful rescue. If you have areas that have flood channels, then swiftwater equipment should be acquired. If your jurisdiction responds to mostly static bodies of water, then personal floatation devices (PFDs) and boats should be considered for purchase.
The training should be commensurate with the needs of the community. At a minimum, awareness-level training that's based on NFPA 1006: Standard for Technical Rescue Personnel Professional Qualifications should be provided to everyone within the organization. A training program must match the target hazards that have been identified.
Standard operating guidelines (SOGs) should be established for every type of potential water rescue to which the organization might respond. The SOGs can be as specific or as generic as needed for the community. A common theme among SOGs, for example, is that all personnel who are within 10 feet of the shoreline will wear a PFD.
With the proper training, PPE and SOGs, organizations can plan for a water-rescue response. What can't be planned for is something that happens out of the ordinary—for example, the aforementioned team that responds to water rescues during normally warm climates but is called upon when exposed to cold temperature. One thing can be enough to throw the water-rescue team out of rhythm. As most mid-management-level personnel know, you need to plan not just for the mission, but for every possible outcome.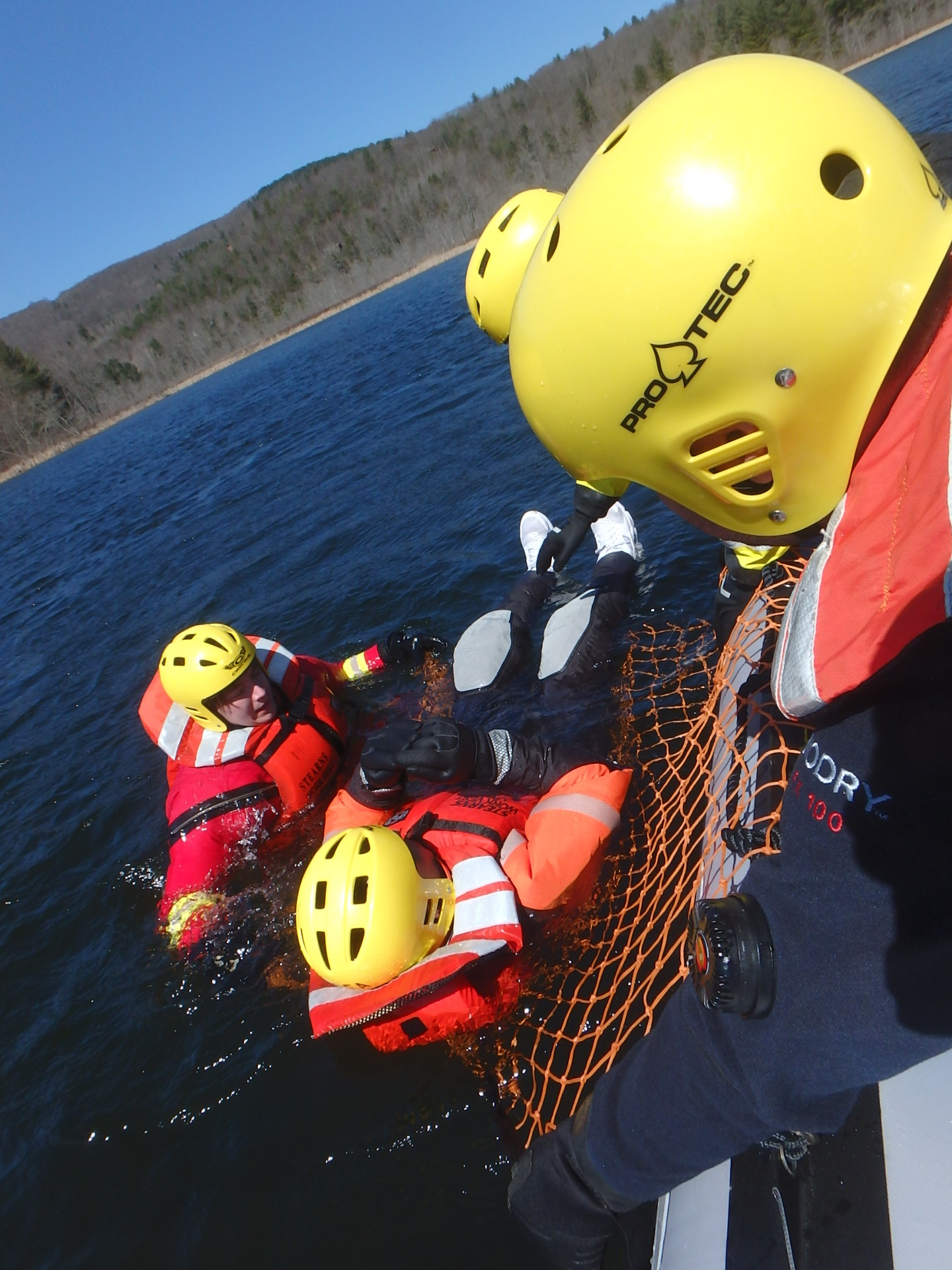 Conducting a proper size-up of a community's water hazards is the first step toward preparing for a rescue in a timely fashion. Identify specific hazards that are unique to the swift water, surf, dive, flood and ice environments in your community.Photo by Mark McCabe
Sequential rhythm
Fundamental rescue techniques when dealing with water rescue should follow a rescue sequence. A rescue sequence that's commonly followed would be talk (teach), reach, throw, row, go and helo (helicopter). As you go from talking victims into self-rescue to deploying a rescuer in the water, the risk to the rescuer increases dramatically.
The particular technique that's selected should be based on the location of victim(s) in or on top of the water. Will they be able to catch a rope that's thrown to them? Will they be able to grip onto an inflatable hose device that's passed out to them?
The rescue technique that's selected also should be based on the condition of the victim and the safest technique for the rescuers, keeping in mind that the safety of the rescuers throughout the entire incident is priority No. 1.
Talking to victims, so they can aid in their own rescue, might sound like a ridiculous option, but such rescues do occur throughout the United States, albeit infrequently (for example, being able to extricate themselves in a way that wasn't readily apparent to them from their vantage point). If nothing else, talking to victims will reassure them that rescue is imminent, and it will get their attention focused on other things besides potential doom.
There are several different techniques that can be used to reach somebody that is trapped in cold water, including extending a pike pole or the use of a ladder or inflatable hose device. (A straight wall ladder or roof ladder can be used with an inflatable hose device; the inflatable hose device is partially inflated and tied to the ladder. The ladder can then be slid out to the victim, and the inflatable hose device will give the victim, along with the ladder, buoyancy.)
An inflatable hose device can be used with a ring buoy that's tied to the end of the hose. Throw bags can be tied to the end of the inflatable hose device and used as steering lines as the inflatable hose device is pushed out to the victim. Obviously, there can be inherent problems, as the hose will try to bend or snake as it's being pushed out.
The caveat to trying to reach someone with a device is that they would be able to hold on to it.
Throwing a throw bag with a rope, a ring buoy, a frisbee device with a rope or a line gun that will inflate when it makes contact with water can be used for rescues, too. The objective is to pull the victim in, or at least give the victim some flotation while another rescue technique can be used, decreasing the risk to the rescuer.
The throw bag is the most common type of tool that water-rescue teams use. They can be thrown underhand, so it lands across or near the victim. Overhand or sidearm throwing techniques can be used when there is vegetation along the banks of the water or when being thrown from a boat.
In colder climates, rescuers should consider wearing neoprene gloves.
A boat can be used to travel some distance to the victim as well as serve as a platform to treat the victim following retrieval from the water. Numerous types of boats can be used by water-rescue teams when a victim is beyond the means of reaching via a rope or other device. Flat-bottomed boats (jon boats) and rigid-hulled boats are suitable, but the most common type of boat that's used by water-rescue professionals is an inflatable rescue boat because of its buoyancy and stable working platform.
The "go" method, in which a rescuer enters the water or climbs onto the ice, is necessary when victims are so incapacitated or hypothermic that they can't assist in their own retrieval or grab onto a rope.
Before any rescuer enters the water, team leaders, along with the safety officer, need to assure that the PPE is appropriate for the environment (including thermal protection). Adequate backup in the way of water-rescue team members who are ready to go in case the primary rescuer needs assistance must be on hand.
The "go" method for an ice rescue requires adequate protection from the cold environment and adequate floatation should the rescuer fall through the ice. The rescuer should have a rope attached to him/her that goes back to the shoreline—or, in areas of great distances, to other rescuers who are on safe ice.
Helicopters' use in water rescues are becoming more popular, as rescue personnel recognize their viability during water rescues and are obtaining the associated training. Numerous helicopter aquatic rescue teams throughout the United States play a vital role during water rescues, particularly during floods. Helicopters can be used to conduct a needs assessment from the air, can offer a stable platform for rescuers no matter the elevation and can help to move personnel or victims quickly.
As with everything, a risk assessment needs to be conducted to see whether helicopter operations can be used given weather and environmental conditions. Special consideration should be given in a colder environment. Not only will rescuers need adequate thermal protection for long periods of time in and out of the water but in conjunction with the hazards that the helicopter's rotor wash creates.
Of paramount importance
As water rescues are happening on a more frequent basis, fire departments need to be prepared for water rescue responses. The time of year, the climate, the environmental conditions and time of day all play a pivotal role in identifying the water-rescue tactics to be used and the PPE for the rescuers. For example, two Type II swiftwater rescue teams responded via an emergency management assistance compact (EMAC) request to North Carolina for Hurricane Florence in September 2018. While the SUSAR (State Urban Search and Rescue) team from southeastern Massachusetts operated there, the members' last thought was on hypothermia. However, it was taken under consideration when team members arrived back at their base late at night after temperatures had dropped along with the shelters being kept quite cold.
In the case of the Massachusetts technical rescue teams that responded to Winter Storm Riley, squads that worked in the flooded environment were given a reduced work/rest time cycle in comparison with warmer temperature situations. In addition, emphasis was placed on personnel having adequate thermal protection. Fire stations that were used as a forward base of operations needed to have areas for rescuers to rewarm before going back out.
Water rescues can occur anywhere and anytime in the nation, and teams need to be prepared for the possible response. Water-rescue team leaders, safety personnel and members themselves need to ensure that personnel have adequate thermal protection, adequate buoyancy, and proper rest and rehabilitation. The safety of the rescuers comes first and always is paramount. Agencies that prepare for cold-water rescues are positioned to respond to the needs of the community in times of crisis. They're able to perform these rescues swiftly, efficiently and with the best potential outcome for all.