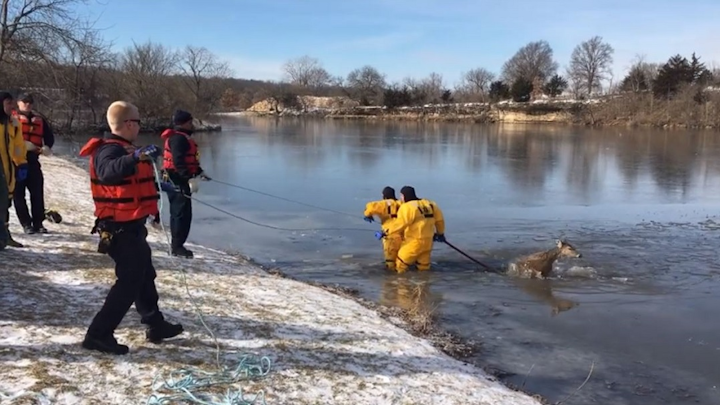 Olathe, KS, Fire Department Screen Shot
Olathe firefighters rescued a deer Sunday afternoon after it fell through ice at the southeast corner of Lake Olathe.
Firefighters responded to the water rescue shortly after 12:30 p.m. at the lake, near West Dennis Avenue and South Wardcliff Drive.
The deer had fallen through the ice about 35 yards out onto the lake. Firefighters donned rescue suits, which are thermal and waterproofed, before going out onto the ice.
The ice looked thick from afar, rescuers said, but in reality was only about an inch thick.
The water where the deer fell was about five feet deep, said Capt. Mike Hall, a spokesman for the Olathe Fire Department.
The rescuers put a rope around the deer and pulled it back to shore, where they covered it with a tarp while they untied it.
After being released, the deer remained on the ground for a short time before it stood and scampered off to a wooded area.
"I guess the lesson today is not to be out on that ice," said Blake Richardson, a firefighter and emergency medical technician with the Olathe Fire Department. "It was a little scary today."
Richardson urged people to stay off any ice-covered lakes or ponds because the ice might not be as thick as it appears.
The fire department will respond to rescue calls to help animals, said Hall, the department spokesman. Such animal rescue calls more commonly involve dogs, rather than deer, he said.
———
©2019 The Kansas City Star (Kansas City, Mo.)
Visit The Kansas City Star (Kansas City, Mo.) at www.kansascity.com
Distributed by Tribune Content Agency, LLC.