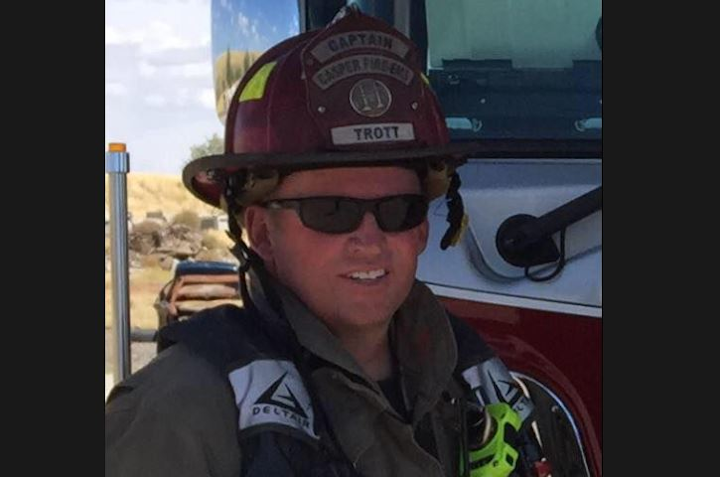 Casper Fire Dept.
April 24-- The family of a Casper firefighter who died after battling cancer will be the first to automatically earn worker's compensation benefits under a new law passed by the Wyoming Legislature.
The Casper Star Tribune reports that firefighter Matt Trott, 46, died Saturday night after an extended fight against pancreatic cancer.
Prior to the passage of the new law, Wyoming firefighters who were diagnosed with diseases related to exposure to fire and smoke had to prove their illness was caused through their work before receiving benefits. Now, firefighters have automatic access if they are diagnosed with a select number of cancers or diseases linked to their job.
Trott joined the Casper Fire Dept. in 1995, and during his 21-plus years he worked as an engineer, a child passenger safety technician and a captain. He retired March 6 because of his ongoing fight against pancreatic acinar cell carcinoma.
"We cannot yet comprehend the void that Matt's absence will have on us," a representative of the department wrote in a news release obtained by the Star Tribune. "He was the ideal 'Fireman's Fireman.' Matt's infectious positive attitude, brilliant tactical mind on the fireground, his mastery of sarcasm and scathing wit made for the type of firefighter and co-worker that made the days fly by at the fire station."
Casper Fire Dept. spokesman Dane Anderson said Trott's passing is considered a line-of-duty death. Of the 188 firefighters employed by the Casper Fire Dept. in the last 25 years, 13 have been diagnosed with cancer, department data shows. Another Casper fire captain, Jeff Atkinson, died of cancer in 2014.
Multiple studies have shown that firefighters are at a higher risk of some cancers and cardiac disease.