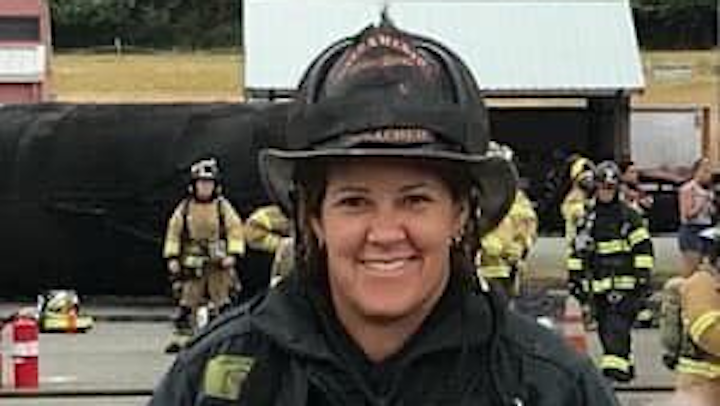 Sacramento, CA, Fire Department
Sacramento Fire Department announced late Tuesday the death of one of their own after a long battle with occupational cancer.
Firefighter Tamara Thacher died Tuesday. She was 31-year veteran of the department.
"Tamara (Tami) was well loved and respected by her fellow firefighters, colleagues, family and friends," the department said in a social media post.
Thacher spent much of career working as a firefighter at Station 5 On Broadway. She also served as a training instructor, emergency medical technician and as a "role model for aspiring female firefighters," the department said.
In the latter part of her career, Thacher became a peer support counselor to help other firefighters deal with behavioral health issues and personal struggles.
"Saddened to hear of Tamara's loss," said Sacramento Mayor Darrell Steinberg on Twitter. "She joined Sacramento Fire in 1988 and was a role model to many female firefighters who followed her in the last three decades."
Members of Sacramento Metropolitan Fire District also offered their condolences for Thacher's death, saying she had worked alongside Metro Fire personnel when responding to incidents.
"Rest In Peace FF Thacher," Metro Fire said in a social media post. "We will #NeverForget."
The Sacramento area Community Emergency Response Team said: "Sacramento CERT members had the privilege of working with Tamara at the Girls Fire Camp, with internal member counseling, and we had the gift of a visit from Tamara while we were deployed to the Camp Fire. Our condolences go out to her family, her co-workers, and all of SFD."
Firefighters face a greater risk of developing cancer due to workplace exposure to carcinogens and other hazardous materials. According to the National Fire Protection Association, a study found "firefighters face a 9 percent increase in cancer diagnoses, and a 14 percent increase in cancer-related deaths, compared to the general population in the U.S."
Thacher is the department's first line of duty death since 1990.
———
©2019 The Sacramento Bee (Sacramento, Calif.)
Visit The Sacramento Bee (Sacramento, Calif.) at www.sacbee.com
Distributed by Tribune Content Agency, LLC.