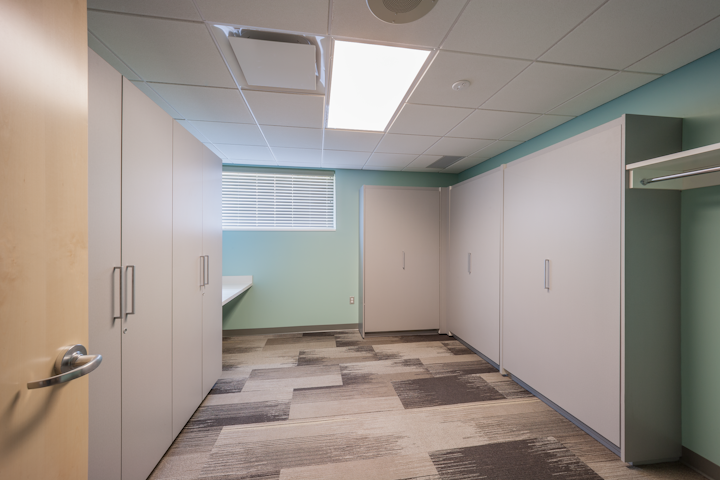 Axis Architecture + Interiors
All fire stations—from historic brick buildings to modern, multiple-apparatus facilities—have one thing in common: a sense of civic pride. But unlike most commercial structures, fire stations are open for business 24/7, 365 days a year. They are a unique hybrid of public and residential space—they serve the community, yet provide a home away from home for firefighters. So, how does a fire station promote camaraderie while incorporating a sense of privacy? By balancing social spaces with private, gender-neutral sleeping quarters.
Traditionally, fire stations have featured a large dormitory, one furnished with individual beds, bunk beds, or wall (Murphy) beds. But as more women join the profession, gender-neutral spaces have become a necessity. Another benefit of private sleeping quarters? They allow firefighters to receive higher-quality sleep, as rooms can be customizable and climate-controlled. And while they do reduce the amount of time firefighters spend together, they also offer a sense of respite and a place to relax.
Balancing public, private space
In 2016, the Carmel, IN, Fire Department, opened a 16,200-square-foot station—Station 44. The new, two-story construction replaced the old station, which the department had outgrown. Indianapolis-based Axis Architecture + Interiors designed the station, which features three drive-through apparatus bays, a separate gear room, and office space for six firefighters. It also includes eight personal dorms and bathrooms on the second floor, as well as a large open kitchen, dining and living space.
"The open concept of the day room is something that the firefighters wanted to see in the building," said Orbie Bowles, Carmel Fire Department's chief of administration. "The old station limited access, size, and how many people could be in that room."
The living space also circulates to the locker "vestibules," which provide access to both the private dorm rooms and gender-neutral bathrooms. The layout—and the desire to incorporate private sleep quarters—was heavily influenced by the station's 18 firefighters, whom the architect surveyed.
"From day one, we were given the opportunity to be a very big part of the building process," said Paramedic and Public Information Officer Michael McNeely. "All along, we had meetings with the different crews about everything, from the layout of the building all the way down to paint color or the brick samples."
Thanks to the firefighters' input, Station 44 includes a large, open kitchen that connects to a dining area and television room. The space is designed to accommodate each six-person shift, and Bowles pointed out that the space lets firefighters spend time together, watch TV, or catch up on news. However, Station 44 does not force social interaction. For respite, firefighters can head to one of the station's eight private dorm rooms. With privacy, though, comes the issue of isolation. A withdrawal from social activities can be a sign of depression, which affects many firefighters. The increased use of social media has led to a decrease in face-to-face communication, too. One way to encourage team building and provide privacy is by designing compact dorm rooms for sleeping, showering, and studying, and encouraging social interaction in the shared living space. Another benefit to incorporating individual rooms? Firefighters of any sex, gender, and orientation can use them.
Need for gender-neutral facilities
It wasn't until the 1970s that women received paid firefighting positions. Today, the number of women joining fire departments continues to increase. According to the International Association of Women in Fire & Emergency Service (iWomen), approximately 11,000 women work as career firefighters in the United States, with an additional 35,000 to 40,000 women serving as volunteer firefighters. A growing number of individuals who identify as lesbian, gay, bisexual, and/or transgender are also joining departments, making the need for privacy even more pertinent.
A recent survey conducted by iWomen identified some of the barriers women firefighters face. Common problems include the lack of gender-neutral bunkrooms and bathrooms, and that changing facilities are built to accommodate either male or female firefighters, but not both. It's unsurprising, then, that women have encountered harassment and shunning, and find it difficult to change in front of the opposite sex.
In recent years, some fire stations have been retro-fitted to accommodate more diverse crews. But the adjustments hardly serve as long-term solutions. For example, female bathrooms are sometimes located away from the sleeping quarters (in the captain's quarters, for example), and require an individual to pass through private space. Other times, showers are installed in existing unisex restrooms in order to serve as the women's locker room. Some stations have even converted their fitness rooms into women's dormitories. It's not an ideal situation, as several women can be crowded into the dormitory, and the fitness equipment may have been moved into the apparatus bay. The need for gender-neutral spaces has not been met.
To avoid renovations that may leave firefighters feeling shortchanged, consider current and future demographics. Would separate, gender-specific locker rooms function well, or would private bathrooms be appropriate?
Weighing the options
There are several ways to incorporate quiet, personal space into a fire station. One option is to design individual dorm rooms with private bathrooms, like those at Station 44. Jack-and-Jill bathrooms—which Station No. 43 in Carmel, IN, and Station No. 42 in Sugar Creek Township, IN, use—are another option. For stations with fewer firefighters, two or three unisex shower facilities can be constructed across the hall from private sleeping quarters. And if square footage doesn't allow for private dorms, wall beds (such as Murphy beds) conserve space. In New Albany, IN, each firefighter at Station 4 has their own Murphy bed. Like Station 44, each firefighter on a shift has a private room in which to sleep. But because the beds fold up into the wall, the station is kept at a modest 9,500 square feet. Wall beds do more than contribute to a smaller footprint, though—they also contribute to health and cleanliness. As each firefighter has their own bed and mattress, they don't have to worry about changing the bedding after a shift, or about the spread of germs.
Wall beds also appear in bunk rooms, which can be transformed into training areas or multi-purpose rooms. Other stations use curtains or partition walls to create a sense a privacy within a shared area. But in general, bunk rooms require larger footprints. For example, if a fire department employs both men and women firefighters, a new station may need to include one bunk room for the men and one bunk room for the women. And if the station doesn't feature unisex bathrooms, it will need separate changing rooms, showers, and restrooms. Bunk rooms also provide challenges for future growth, and a fire department must ask several questions, including: How many women does a fire department plan to hire in the next five years? The next 10? Where would an individual who is transgender sleep, shower, and change? Will firefighters be changing in front of members of the opposite sex? Would the lack of a bunk room reduce the camaraderie between firefighters?
Culturally and historically, firefighters spend a lot of time together, and shared sleeping spaces aid with team bonding. However, it can be difficult for a firefighter to get adequate sleep, especially in a bunk room. A study conducted in 2007 by the International Association of Fire Chiefs, the United States Fire Administration, and Oregon Health & Science University explored the effects sleep deprivation has on firefighters. The study noted that chronic sleep deprivation may not be recognized, but that "it is important for workers to acknowledge their need for, and maximize their ability to achieve, adequate restorative sleep."
Here's where private, climate-controlled sleeping quarters have an advantage. A firefighter can change the temperature of a room, or turn on a fan or noise machine. Snoring is no longer an issue, and if lockers are located outside of the sleeping quarters, a firefighter is less likely to wake up due to noise. At Station 44, there are locker vestibules off the hallway. Each vestibule has two doors—one for the private dorm room, and one for the private restroom. This arrangement makes shift changes easier, as firefighters can put things in their lockers without entering the dorm room. Flexible, configurable alert systems also contribute to quality sleep. When installed in private dorms, the system alerts only the individuals necessary for that run, thus preserving the sleep of others. So, if the EMS responders must go out on a run, only those individuals—and not everyone on the shift—would be alerted.
Private dorms also eliminate the need for a general "quiet room," which saves on square footage. And because individual, Jack-and-Jill, or unisex bathrooms accommodate any firefighter, additional restroom facilities aren't needed. The extra space can be allocated for other amenities—the day room, fitness room, office/watchroom, or kitchen and dining room. Some stations incorporate multiple pantries and refrigerators—one for each shift. At Station 4 in New Albany, the fitness room accounts for nearly one-third of the total "common area" square footage. And Carmel's Station 44 boasts a 660-square-foot kitchen—plenty of room for everyone to hang out.
"The old station had a kitchen that was maybe 80 square feet," said McNeely, "and when six of us were crammed in there to try and cook a meal, it was kind of a joke. So, we made sure to put a lot of time and effort into the design of the new [station]. Everything from the tile down to the countertops." 
The future is flexibility 
Firefighters cook together, exercise together, train together, and risk their lives together. Their kinship is essential for the success of the community, and contributes to a station's civic presence. But as more women and individuals who identify as gay, lesbian, bisexual, and transgender join the profession, living spaces should be designed with flexibility in mind. Gender-neutral sleeping quarters allow firefighters to receive higher-quality sleep, and private bathrooms make it easier to shower and change after a run. While each fire department has its own policy on diversity, the proper balance of private and public space promotes camaraderie and interaction.