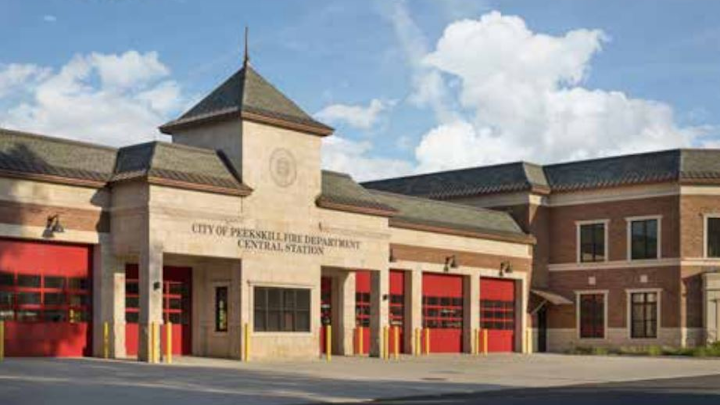 Mitchell Associates Architects, PLLC
This facility received a Combination Gold Award in Firehouse's 2019 Station Design Awards. Find the full list of winners here.
The new fire headquarters for Peekskill, NY, is designed to meet the needs of an historic community and a department with a 200-year history. In 1608, Henry Hudson anchored at Peekskill on the Hudson River. The Continental Army established its headquarters here in 1776. President Lincoln's inaugural train and funeral train both stopped in Peekskill.
The Peekskill Volunteer Fire Department was founded in 1813. Before the current consolidation, six companies occupied five stations—two from the 19th century and the newest 50 years old—all with glaring operational and firefighter health and safety issues. The department of 140 volunteer and 26 career firefighters covers 4.3 square miles with a population of 24,300 people and makes 3,400 calls per year.
The new fire headquarters is the culmination of 10 years of studies and planning. Mitchell Associates has worked closely with the department and city since 2007 to develop a design that addresses the following goals: consolidate operations at a centrally-located facility; meet today's operational needs and health and safety standards; provide a home for combined volunteer and career members; construct a permanent building made of traditional materials that demonstrates civic pride and the city's commitment to its future; prominently display their hand pumper (owned since 1826) and parade wagon (owned since the 1870s); and show proper respect to the fire service and those who protect us.
The building materials and forms create a timeless streetscape for the centrallylocated building that serves as a new gateway to the city. Natural stone was quarried and machined in Western Pennsylvania to shapes reflecting existing buildings in Peekskill.
Peekskill is in the midst of a revitalization including a recently awarded $10 million economic development grant. The new fire headquarters helped the city to position itself to successfully receive the grant.
Architect/Firm Name: Mitchell Associates Architects, PLLC.