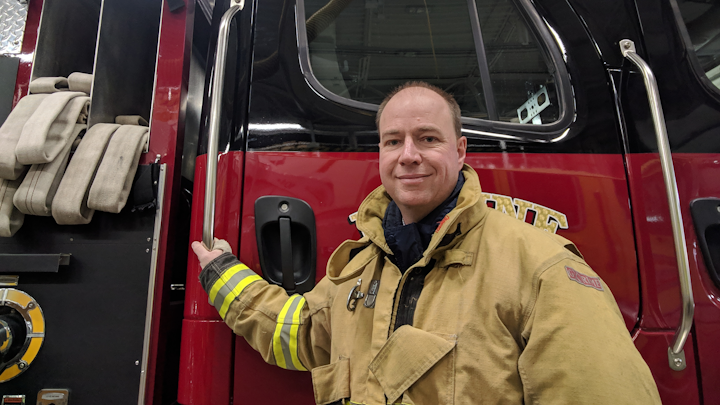 American culture has been steeped in volunteerism from the very early stages of the republic. Volunteers helped stem the tide of the American Revolution in favor of the colonists and continue to voluntarily serve in the armed forces.
Volunteer fire departments have a long and distinct tradition in the United States that, in many cases, passes from generation to generation. Unfortunately, during the past half-century, volunteer fire departments have seen a steady decline in participation nationwide. Here we will examine the role of public service motivation in recruiting and retaining volunteer firefighters. 
By the numbers
The mid- to late-20th century and early parts of the 21st century have been notably tough on the volunteer fire service. Dwindling numbers and more calls for assistance outside the scope of firefighting have proven challenging to maintain consistent numbers. Volunteer fire departments face a constant process of recruiting and retaining firefighters, and too few people joining the volunteer fire service has become a crisis.
The National Volunteer Fire Council (NVFC) serves as the voice of the volunteer in the national arena, and provides tools, resources, programs and advocacy for first responders across the United States. The NVFC's "Volunteer Fire Service Fact Sheet" shows that since 1985, the number of volunteer firefighters nationwide has dropped from 839,450 to 814,850 in 2015. Data indicated that although the number of volunteer firefighters is decreasing, fire department calls are increasing dramatically. That statement is confirmed by a statistical analysis of data collected by the NVFC. In 2000, the number of fire calls for U.S. fire departments was 20,520,000, and in 2016, that number increased to 35,320,000. The increasing number of responses and the decreasing number of volunteer firefighters are alarming.
The International Association of Fire Chiefs (IAFC) released a study on the state of recruitment and retention in the volunteer fire service was released by in 2018. The study indicates that of the 30,052 fire departments in the United States, 2,477 are career and 7,768 are combination departments. The remaining balance of 19,807 departments is all volunteer. Approximately 70 percent of all firefighters in the United States are volunteers.
Research review
The main areas of concern continue to be recruitment and retention in the volunteer fire service, which formed the basis for the current study. Volunteer fire departments that are able to retain their members have faster response times, more firefighters responding to calls, and report fewer injuries. The goal for the volunteer fire service is to maintain a level of service that best serves the community being protected. The problem of recruitment and retention is real, and the efforts to increase volunteer firefighter ranks have never been more important. Volunteer fire departments are losing members, which, in turn, is hurting communities that depend on them for consistent fire protection services.
Several of the studies on employee retention highlight the importance of leaders and managers acknowledging employees for their work and making them feel included in the day-to-day operations. Increasing an employee's commitment should be the primary focus for organizational leaders. Good supervision and emphasis on employees being valued lead to retention. Work environment and job satisfaction are two primary factors in retaining employees.
Research in the education field concluded that employees leave if there is an absence of support from administrators. Educational research further indicated that fostering solid professional development programs leads to improved retention. Leaders who are respectful of employees and make them feel like they are an integral part of a team do better at retention. As such, leaders need to make a commitment to support employees and implement programs to help them succeed. Employers can improve retention by sharing information with employees and creating transparent processes within an organization. Based on the research conducted, volunteer fire departments that create an environment of inclusion will retain members at a higher rate.
It is also important to look at the motivational factors bringing individuals into the fire service. Dr. James Perry developed a model for studying public service motivation (PSM) using the theoretical framework that motivation of individuals to serve stems from four main areas: policy making and politics, public interest or civic duty, compassion, and self-sacrifice (Perry, 1997). This form of motivation originates from the beliefs and motives that are found within individuals who serve in the public domain. Perry concluded that an individual's PSM develops over time and incorporates a wide variety of experiences. Since the original Perry model was introduced, researchers have contributed by making changes in the model for more simplification using only one or two of the dimensions noted in the study.Development of a shorter version of the Perry model has been undertaken for less elaborate sets of items, eliminating the policy-making and politics PSM. In revisiting the model two decades later, Perry noted that situational factors and individual behaviors should also be studied. 
Recruiting volunteers who display one or more of the PSM traits in Perry's model can help solve the problem of retention. Both need to be addressed simultaneously. Volunteer fire departments need to have a dedicated recruitment and retention coordinator in place. There should also be a Recruitment & Retention Committee to help the coordinator implement the overall plan to recruit and retain members. It is necessary for volunteer fire departments to have a comprehensive plan in place. Part of this plan should include completion of a need's assessment, job and task analysis for each operational and administrative position in the department, and a succession plan for leadership positions.
During the interview phase of the recruitment process, it is important to ask questions of candidates that relate to PSM. A few examples of PSM-based questions:
Why do you want to join our organization?
What are your short- and long-term career goals?
How can you give back to the community?
What motivates you? 
Candidates that provide affirmation of PSM traits in their answers contain the motivational factors vital for their retention. 
Recruiting with PSM factors in mind will foster higher retention rates in volunteer fire departments. A recent study that included interviews with former volunteer fire members concluded that 80 percent of those interviewed did not have PSM when joining the fire department. They were recruited based on family legacy, friends or responding to a recruitment drive such as mailings or flyers.
Disenfranchisement with department leadership, group dynamics and lack of time were the primary reasons for leaving the fire department. Of course, organizational issues plague all volunteer fire departments. But members with strong PSM factors are much more likely to work through departmental issues because they have internal motivations that will keep them going despite leadership problems and/or group dynamic issues.
Lack of time is also an ongoing retention problem. Motivated members are more likely to take on different roles with the fire department that may require less time, such as shifting from an operational member to an administrative member.
Final thoughts
Leaders need to recognize that motivating employees to further goals, make contributions and identify with the organizational mission can equate to retention. Inclusion and sharing of knowledge play a pivotal role for leaders encouraging motivated individuals to stay within an organization. Fire service leaders must recognize the importance that PSM plays in retaining members.
The Millennial generation is the primary group currently entering the fire service. Their recruitment and retention are vital for volunteer fire departments to continue to provide service in the United States. PSM is a strong factor in retaining members. Those who answer the call may be different than their fellow citizens because they view public service as an attitude or duty. Individuals who remain motivated despite the politics and internal strife that can affect an organization continue to serve in the fire service. Without motivational influences, people are less likely to remain in the fire service. Because fire department leadership is not in a position to force individuals to have an internal PSM, chief officers need to determine the motivational factors of those joining the fire service. By carefully examining the PSM model and using the conclusions drawn from various studies, fire service leadership will be in a much better position to recruit and retain firefighters.
References
Ertas, N. "Millennials and Volunteering: Sector Differences and Implications for Public Service Motivation Theory." Public Administration Quarterly. 2016. 40(3). 517–588. 
International Association of Fire Chiefs "State of the Volunteer Fire Service Report 2018: Recruiting and Retaining the Volunteer of the Future."
National Volunteer Fire Council. "Retention and Recruitment for the Volunteer Emergency Services." 2nd ed. 2007. FEMA-USFA.
National Volunteer Fire Council. Volunteer Fire Service Statistic Sheet. 2018.
Perry, J. "Antecedents of Public Service Motivation." Journal of Public Administration Research and Theory. 1997. 7(2). 181–193.