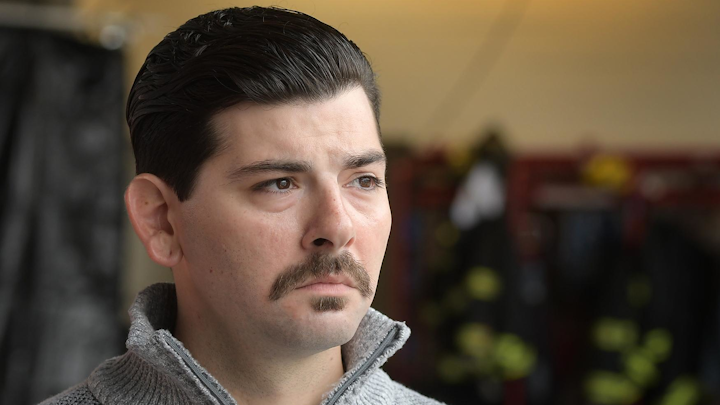 Telegram & Gazette/Rick Cinclair/TNS
Twenty years after his father's death, Worcester, MA, firefighter Dan Spencer still keeps a special reminder of his late father close by. It's not only the memories of his dad's love of opera or the Boston Red Sox, but something more tangible.
"I still wear his Navy blue cardigan," said the Worcester firefighter, chuckling. "They call me old man (at the station)."
Lt. Thomas Spencer was one of six firefighters—along with firefighters Paul Brotherton, Timothy Jackson, Jeremiah "Jerry" Lucey Jr., James Lyons and Joseph McGuirk—who lost their lives battling a five-alarm blaze at the abandoned Worcester Cold Storage and Warehouse Co. on Dec. 3, 1999. The sacrifice of the Worcester 6 is still remembered by residents, and their firefighting legacy in the city is carried on by several of their sons.
---
RELATED:
---
"I have vivid, vivid memories of December 3rd, being the oldest," said Mike Brotherton, who is a member of the Worcester Fire Department, along with four of his five brothers. "It's always been on my mind. It's never left."
Spencer, Brotherton and Jeremiah "Jerry" Lucey III learned of their fathers' deaths in much the same slowly devastating fashion. They had been doing normal kid activities: Brotherton, 14 at the time, was getting a haircut; Lucey, who was 11, had been at a middle school dance. A then 13-year-old Spencer, in fact, had been on the phone with his dad when the first alarm sounded.
Then came the phone calls, followed by the journey to St. Stephen's Church, which was blocks away from the fire scene. It was there that the families were officially given details of what had happened and how six firefighters had not escaped the burning warehouse.
"I was definitely nervous for my father," Lucey said. "He was always a super hero to me, him being like Superman to me. ... For a while, I kind of kept that in my mind, I guess you could say it kinda kept me going."
"I immediately had a breakdown," said Spencer, describing his initial reaction to the news about his dad. "I think I was in shock."
Although the boys had been told about the tragic fate of their fathers, it wasn't until eight days later that the firefighters' bodies were pulled from the burned remnants of the 110,000 square-foot facility. 
"It was a whirlwind," said Spencer about the days he spent at the scene. "They brought us down in a police car to the site, we'd stand there in the cold and watch as they dug through stuff."
That blur of activity, Spencer added, kept him from completely feeling the heavy loss of his father. It would be later—during the quiet moments and those first holidays without Dad—when he would truly feel that weight land on him.
"I definitely grew up a lot faster than I should have," said Brotherton about the tragedy's effect on him. "I didn't do a lot of the adolescent BS that went with (growing up), being defiant and being disrespectful. ... I didn't think that was fair to my mom who had to raise six kids on her own. ... I wasn't raised like that, we weren't raised like that."
Embracing the fire service
No one would have blamed Lucey, Spencer or Brotherton if they wanted to distance themselves from the fire service following the 1999 fire. Instead, they continued to embrace it.
"After the fire, I started hanging out at the station with his crew that was there. I'd have dinner with them, start staying over and hanging out on the trucks," said Spencer, admitting that his mother had been resistant at first of her son becoming a firefighter.
He and Brotherton would keep spending time at their fathers' respective fire stations. They would listen to the other firefighters relating anecdotes, learning more about their late loved dads and getting a crash course in their future profession.
"After his death, I guess I needed a male role model. I was kind of lost going through adolescence. And I did go down to his station a lot. They'd let me stay the night and go on calls, and that's where I got a real good taste of what this job's about," Brotherton said. "I loved it."
Lucey didn't log the same hours at the station following his dad's death that Brotherton or Spencer did, but that didn't mean he wasn't determined to become a firefighter.
"I knew it was something I always wanted to do," he said.
It's that passion for the job that Brotherton says is more important than any feelings of obligation. That's why he never pushed any of his younger siblings into the career or busted the chops of his brother John for not becoming a firefighter.
"If your heart's not in it, it's not in it. You're not going to be doing anyone any favors. ... If you don't have that passion and that want, we don't really need you there," he said.
Parenting legacies
As important as it is to carry on their fathers' firefighting legacy, it's equally important to the three men to carry on their fathers' legacies as parents.
"You see the job in another light when you have kids," Spencer said. 
Spencer is a father of three, Brotherton has a 4-month-old son, and Lucey welcomed his first child—Jeremiah Lucey IV—in October. In fact, Lucey heard the sirens of a fire apparatus race by as his wife was in labor in the hospital delivery room.
"He loved being a father," Lucey said about his namesake.
The pain of Dec. 3 also brought Brotherton's close family closer. Over the years, they've come to rely on one another for emotional support, especially when other tragedies hit, like the line of duty deaths of Worcester firefighter Christopher Roy and Lt. Jason Menard in the past year.
"My brothers and I are still very tight. We still get together. We're obviously very tight with my mother, so we always end up over here to talk and cry and vent and whatever," he said. "Nobody goes and becomes a hermit and disappears, which is good. You can't do that."
And what would their fathers think of their sons carrying on the firefighting tradition? As they mark the fire's anniversary, all three firefighters would hope their fathers would be proud of the men they've become.
"I think he'd be ecstatic," said Brotherton, adding that there is one thing that might have surprised his dad were he still alive today.
"I don't think he would've thought five out of six of his sons (would be firefighters). I think he would've lost that bet."