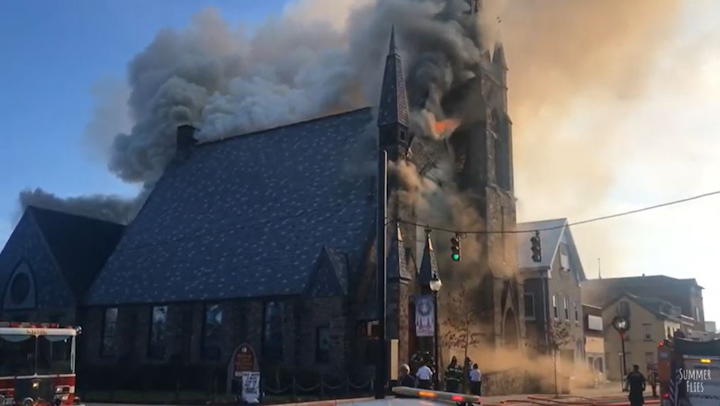 Summer Flies/YouTube
MILTON — A state police fire marshal could not determine the cause of Tuesday's fire that heavily damaged the 139-year-old Bethany United Methodist Church, Milton Deputy Fire Chief Joe Lupo said on Wednesday.
The three-alarm fire that started just before 2 p.m. drew firefighters from five counties and shut down part of Milton's downtown for about 5 hours. No one was reported injured.
Lupo said Trooper James Nizinski of the Milton barracks investigated the fire scene on Wednesday morning.
"He might be back on Friday when (the church's) insurance investigator is there," Lupo said.
Nizinski was unavailable for comment and he had not issued a news release on the investigation.
Meanwhile, the church will hold a private Prayer & Communion Service at St. Andrew's UMC, 102 Lower Market St., Milton, on Sunday at 10 a.m. and will join with the St. Andrew's UMC congregation for worship at 10:30 a.m., according to a notice from Cheri Buss, Bethany United Methodist Church administrative assistant.
The location of future services will be determined.
Bethany United Methodist's pastor, the Rev. Bill McNeal, said on Tuesday at the fire scene he believed the cause might have been electrical. He said an electrician had been in the church in the morning to check out a short in the lighting, and everything seemed fine before the pastor left. He later received a phone call about the fire and rushed back to the church.
Milton Fire Chief Joe Stump said at the scene he did not know the cause, but it was not of a suspicious nature.
He said the fire caused substantial damage to the roof and the front of the mostly stone church at the corner of South Front and Center streets.
"There was quite a bit of water and smoke damage inside," Stump said.
The first of the three alarms was called in at 1:53 p.m.
The smoky fire drew crowds of onlookers as numerous fire trucks from as far away as Snyder and Lycoming counties converged on the scene. The gray cloud of smoke could be seen from miles away.
Firefighters and members of several area churches helped move out furniture, Bibles and other books and items to save them from damage.
———
©2019 The Daily Item (Sunbury, Pa.)
Visit The Daily Item (Sunbury, Pa.) at www.dailyitem.com
Distributed by Tribune Content Agency, LLC.