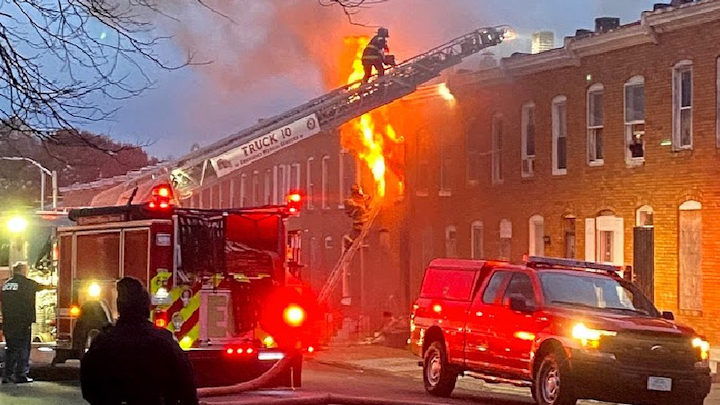 Baltimore 8X10
Five of 17 fires being investigated over the past week in vacant homes in Southwest Baltimore have been ruled arson, fire and police officials said Saturday.
Seventeen fires have broken out since Dec. 2, Baltimore Police said. Officials have ruled five of them arson and continue to investigate whether others were set intentionally.
One firefighter suffered non-life-threatening injuries, but no other injuries have been reported, fire officials said.
The city police arson unit has been working with the Baltimore City Fire Department on the investigations.
Fire officials said they were investigating two fires reported on Saturday, including one that spread to an adjacent vacant home.
Those blazes followed four others reported in under two hours Friday afternoon, including two within a block of one another. All four of those were ruled arson, police said. They included vacant homes in the 2400 block of Christian St., 500 block of S. Bentalou St., 200 block of Furrow St. and 300 block of Furrow St.
Fire on Bentalou Street
"It's definitely alarming, " said Blair Adams, a spokeswoman for the fire department. "We do have crews in the area and are working with police to try to get to the bottom of it."
Police said they arrested a 27-year-old man Dec. 2 in connection with the fifth arson, which occurred in the 1900 block of Ramsey St. Detectives asked for the public's help in identifying another man shown in a photograph. Anyone with information is asked to call the Southwest District at 410-396-2488 or Metro Crime Stoppers at 1-866-7Lockup.
The latest spate of fires started Friday afternoon in the Mount Clare Junction area of Southwest Baltimore. The first was reported at 4:26 p.m. in the 2400 block of Christian St., with the next at 4:40 p.m. in the 500 block of S. Bentalou St. and another at at 5:44 p.m. in the 300 block of Furrow St. Another was reported on the same street in the 200 block just two minutes later, at 5:46 p.m.
A firefighter was injured occurred while battling the Christian Street blaze.
Then on Saturday, fire broke out in the 2000 block of Frederick Ave. at 12:23 a.m. Another was reported at 12:38 p.m. in the 1900 block of Wilkens Ave. It started in a vacant home at 1913 Wilkens and spread to the home next door at 1915. The blaze was under control at 1:58 p.m.
Of the recent string of fires, 11 occurred in the Carrollton Ridge neighborhood in a 24-hour period ending the evening of Dec. 2. Those fires took place in abandoned buildings in a section of the city between the intersections of West Pratt Street and South Pulaski Street and South Calhoun Streets and McHenry Street.
———
©2019 The Baltimore Sun
Visit The Baltimore Sun at www.baltimoresun.com
Distributed by Tribune Content Agency, LLC.