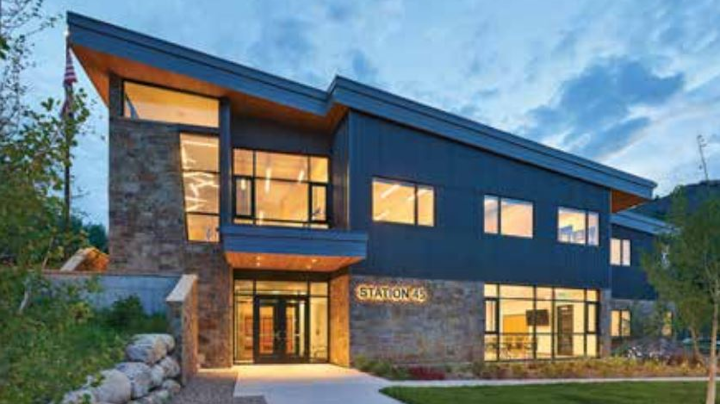 Charles Cunniffe Architects
This facility received a Career 1 Gold Award in Firehouse's 2019 Station Design Awards. Find the full list of winners here.
Surrounded by the world-class Aspen/Snowmass ski resort, the Roaring Fork Fire Rescue Station 45 was designed to sustainably address firefighter health, complement the surrounding architectural vernacular, and provide affordable housing. The site drops a full story from the main road, resulting in a two-story facility with apparatus bays on the upper level for quick response times, and community and housing access from the shared lower parking lot.
The health, safety and comfort of personnel was of paramount importance. Interior spaces are separated by an air-tight vestibule, with walk-off carpet to capture contaminants. The bays are negatively pressurized to prevent exhaust and carbon monoxide from entering the other areas of the building and contain a vehicle exhaust capture system in addition to a ventilation system connected to both CO and NO2 sensors. A decontamination room and drench shower with eye wash is located directly off the bays. Operational functions are secured from the public areas through a series of keypad locks.
Six resident studios with ample storage and separate exterior entries assists in the recruitment of personnel in an expensive housing market. Seven private dorms, with alert-lighting for eye adjustment during nighttime calls, are secured and adjacent to the day room with an outdoor patio, gym and yoga/large training space with bike and ski storage; reinforcing the station's focus on well-being. A solar thermal system offsets the hot water demand, a 17.2 kW PV system offsets the electrical usage and ERV's capture heat while providing required ventilation. Extensive daylighting reduces the use of artificial lighting, and LED lights with daylight and motion sensors minimizes energy usage. Natural ventilation and ceiling fans replace mechanical air conditioning. Recycled materials, including salvaged local beetle killed pine, were used for wall and ceiling treatment, in the public spaces, as a nod to the local context.
Architect/Firm Name: Charles Cunniffe Architects.