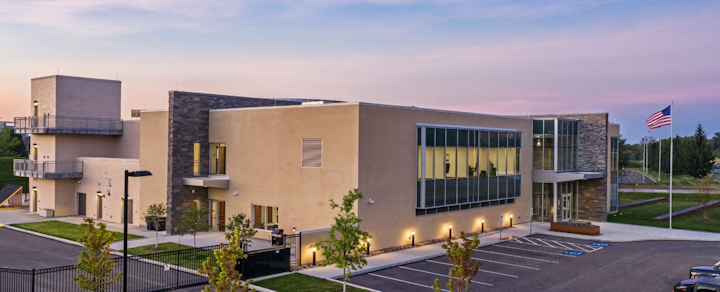 LeMay Erickson Willcox Architects
This facility received a Mixed-Use Facilities Gold Award in Firehouse's 2019 Station Design Awards. Find the full list of winners here.
Beachwood Public Safety Center is a new mixed-use public safety facility that combines the four-bay Fire Station 2 with a 9-1-1 dispatch center, police office, EOC/training room and firefighter training facility. The 27,000-square-foot facility is organized around a two-story lobby that identifies the entrance from the main road and provides direct, secure access to the multiple user spaces. The lobby includes a 9/11 Steel Memorial that serves as a reminder of the heroism and sacrifice of our nation's first responders.
Firefighter response time, health/ safety and practical training were priority considerations that shaped the design and layout of the station. The residential and operational spaces are located on the first floor along a central corridor that provides a safe and direct response path. Hot Zone design principles are applied in the fire station bays and decontamination spaces, and a single-bay door at the side of the station is designated as the vehicle return and decontamination entrance. A two-story exercise room provides space for a wide variety of cardio and strength training exercises. Practical training facilities are located at the rear of the  building and include a four-story training tower with exterior balconies, an open interior stairwell, and adjacent roof levels to create a variety of training scenarios.
The city leadership, fire chief and police chief strongly valued the opportunity to provide a mixed-use public safety center that would strengthen the partnership of the fire and police departments and would provide an opportunity to provide improved dispatch and EOC capabilities. The 911 dispatch center and police office share a suite at the front of the building with secure access from the lobby. The EOC/training room is a multipurpose space located on the second floor above the dispatch center that can serve as the city's emergency operations center during crisis situations or as a large training room for any of the city agencies.
Architect/Firm Name: LeMay Erickson Willcox Architects.