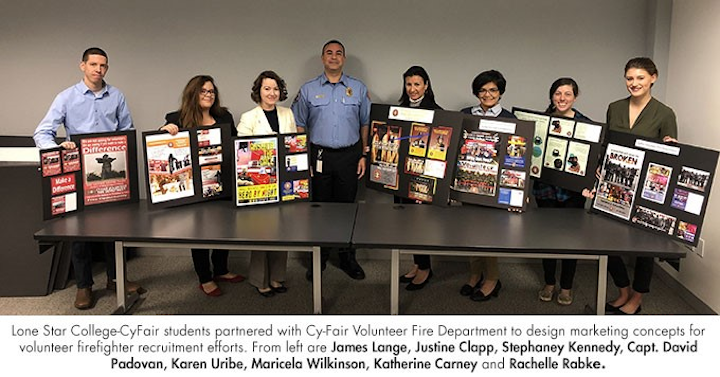 Who will "add a new suit to your wardrobe" and become a volunteer firefighter in the new year? The Cy-Fair Volunteer Fire Department (CFVFD) will find out when they incorporate Lone Star College-CyFair student-designed campaigns and tag lines in their recruitment efforts.
Professor Julie Wells' students recently presented Captain David Padovan, CFVFD Public Information Officer, with several original marketing options for CFVFD recruitment campaigns as their ARTC Design Communications II final project. Students conducted research for their project by visiting Station 11 and attended meetings to interview firefighters and Capt. Padovan.
"This project provided an opportunity for them as a designer, to choose one little nugget, quote, or take away and run with it to make an entire recruitment campaign," said Wells.
The campaigns tapped into desires of different target audiences from volunteers who would want to "make a difference", "answer the call" or "add a new suit to their wardrobe" to concepts of belonging to a family/brotherhood, being a hero helping others in need, and showcasing the personality and lifestyles of these everyday volunteer community servants. Touching on the impact of safety measures in firefighting, one campaign focused on a technology aspect of their masks, radio communications equipment and apparatus.
Capt. Padovan said the students far exceeded his expectations. He was pleased with the uniqueness of the taglines and creative imagery of the multiple campaign concepts and collateral pieces such as posters for local business storefronts, postcard mailers for community residents and handbills to pass out at events.
"They knocked it out of the park," he said. "The variation will help keep our recruitment efforts fresh."
CFVFD firefighters serve one of the largest growing residential areas in Houston, so recruiting volunteers is a year-round necessity. The student projects will provide new print and digital material that the CFVFD Public Infomration Officers can cycle through to reach different, yet specific target audiences.
Wells' students were not only graded on the concept development, design execution, and the professionalism of their physical and client presentation, but they gained real-world experience and materials for their portfolio.
In addition, Capt. Padovan said each student would receive a letter from the Fire Chief regarding their contribution and be informed which pieces of their campaigns would be used in CFVFD's future recruitment campaigns.
For information about the CFVFD or becoming a volunteer firefighter, attend a Thursday meeting at any of the 13 stations or email pio@cyfairvfd.org 
For information on the Visual Communication programs at LSC-CyFair, email Julie.M.Wells@LoneStar.edu.