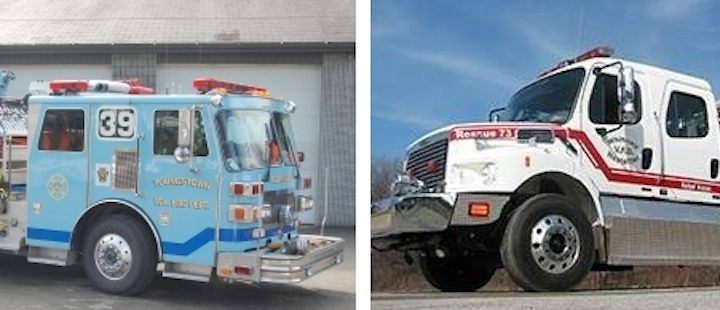 Youngstown, PA, Volunteer Fire Department | Whitney-Hostetter, PA, Volunteer Fire Department
Firefighters from Youngstown Borough and the nearby Whitney-Hostetter department often respond together to emergency calls.
Under a proposed merger, they soon could be heading to other emergencies as a single volunteer company.
Unity Township Supervisors this week passed a resolution supporting the merger, which was sought by the firefighters.
"They think they can provide better coverage ," said township solicitor Gary Falatovich. "The two departments back each other up frequently because of the proximity of their buildings, and they just thought it would be better, from a service perspective, if the two departments were combined — if they're combining membership, in terms of call-outs."
Tony Matuszky, chief of the Whitney-Hostetter department, told the Tribune-Review the two firefighting organizations want to merge to provide the best service to area residents while making better use of resources and avoiding unnecessary duplication.
"With the decline in firefighters and the high overhead cost of services and equipment, our two fire departments want to be a leader in this field," he said. "We'll be a much stronger fire department together, rather than trying to duplicate each other's equipment."
"Whitney is a little coal patch community. With the decline of volunteerism in our state and the country, we felt it was time."
"The idea is to be proactive and look to the future," said Barry Banker, Youngstown fire chief. "We think that this marriage is something that can bring the two departments together and create a stronger and better fire department that will last for many years into the future."
The combined organization would be known as the Youngstown-Whitney Volunteer Fire Department. It would continue to run trucks out of both existing fire stations, Matuszky said, until either an addition could be made to the Youngstown station or a fire hall could be constructed.
"We'll still have good response times," he said. "The public should basically see no change in service."
For the past several years, the departments have been dispatched in a "dual response" when emergencies occur in their contiguous service territories, and they've held combined training sessions, Banker said. "We share a lot of common ground from the standpoint of geography," he noted.
"We cover for each other if somebody is a little short on manpower," he added. "We are always recruiting. That's one of the things that has led us to where we are."
According to the respective fire chiefs, the Whitney-Hostetter department has 22 members on its roster and two pieces of apparatus — a fire engine and a multi-purpose rescue truck — while Youngstown fields a little more than 50 firefighters with six vehicles at their disposal.
Whitney-Hostetter responds to about 350 calls in a year, Matuszky said. According to data listed on its website, Youngstown responded to a high of 471 calls in 2018.
The two departments plan to combine finances and fundraising campaigns, Matuszky said, noting talks have been under way for more than a year.
Falatovich said the township supervisors' "involvement is very preliminary. We still have some things to work out with Youngstown Borough."
He said the supervisors' resolution helps lay the groundwork for the fire departments' private attorney, Kim Houser, to seek approval of the merger from state agencies.
The merged department would continue to qualify for a share of proceeds from Unity Township's 2-mill fire tax, Falatovich said.
Because much of its service area extends into the township, the Youngstown Volunteer Fire Department is included in the Unity Township Fire Bureau, along with seven other departments that are headquartered in the township — Whitney-Hostetter, Crabtree, Dryridge, Lloydsville, Marguerite, Mutual and Pleasant Unity.
The proposed merger would be a continuation of past consolidations of firefighting services. The separate Whitney and Hostetter departments previously joined forces.
When the former Baggaley Volunteer Fire Department closed, in January 2002, Youngstown firefighters assumed responsibility for fire protection in that section of Unity Township.
———
©2019 Tribune-Review (Greensburg, Pa.)
Visit Tribune-Review (Greensburg, Pa.) at www.triblive.com
Distributed by Tribune Content Agency, LLC.