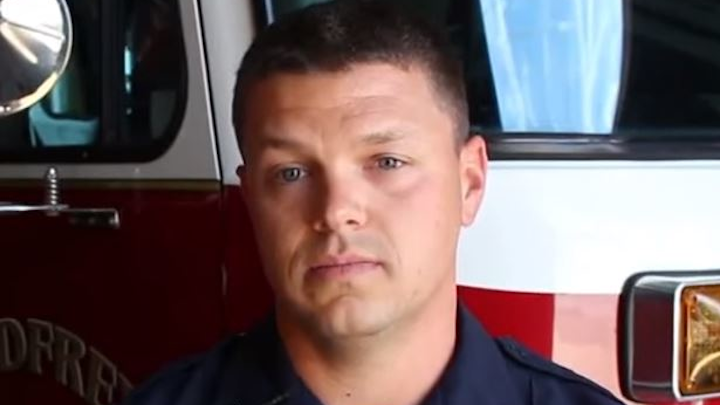 KDSK-TV SCREEN SHOT
Failure in leadership by on-scene commanders were cited by a report concerning the death of an Illinois firefighter in March.
Godfrey Fire Protection District Capt. Jacob "Jake" Ringering, 37, died from injuries he suffered when a 21-foot wall collapsed while battling a March 5 house fire in Bethalto. Three other firefighters also were injured in the incident.
---
RELATED:
---
According to an Illinois Occupational Safety and Health report, chiefs who responded to the blaze—which included the Cottage Hills Fire Protection and the Bethalto Fire Department—didn't perform 360-degree walk arounds of the scene to locate potential hazards, The Alton Telegraph reports. Bethalto Fire Chief Alex Campbell did initiate a walk around for the sectors in the front of the house where he was in command, and he noticed that flames had weakened the roof.
The report also pointed to distractions Fosterburg Fire Protection District Chief John Holtorf faced at the scene. Holtorf reportedly was not performing incident command duties during the fire because he was training a probationary firefighter on engineering duty and was occupied with trying to resolve a water pressure issue.
"While attempting to solve lack of water due to fire hydrant not being fully opened, (Holtorf) then needed to devote additional time and thought to which departments/districts could provide tender and mutual aid," the report states, according to the Telegraph. "This led to an additional mental distraction away from remaining situationally aware of potential hazards."
After Godfrey crews arrived, firefighters, including Ringering, began cutting a garage door that led to the basement where the flames had spread, according to the report. The door was beneath the 21-foot wall, and the report says crews should have gone through an unlocked standard instead. 
"If FF (firefighters) were on the side of structure less debris would have impacted FF and potentially could have saved a life and lessening injuries," the report states, according to the Telegraph.
The report recommended that fire departments review risk analysis policies and procedures. An incident report by the Illinois State Fire Marshal's Office hasn't been completed, the Telegraph added.
The OSHA report was made available to The Telegraph this week in response to a Freedom of Information Act request. The Illinois State Fire Marshal's Office has not yet completed its report on the incident.