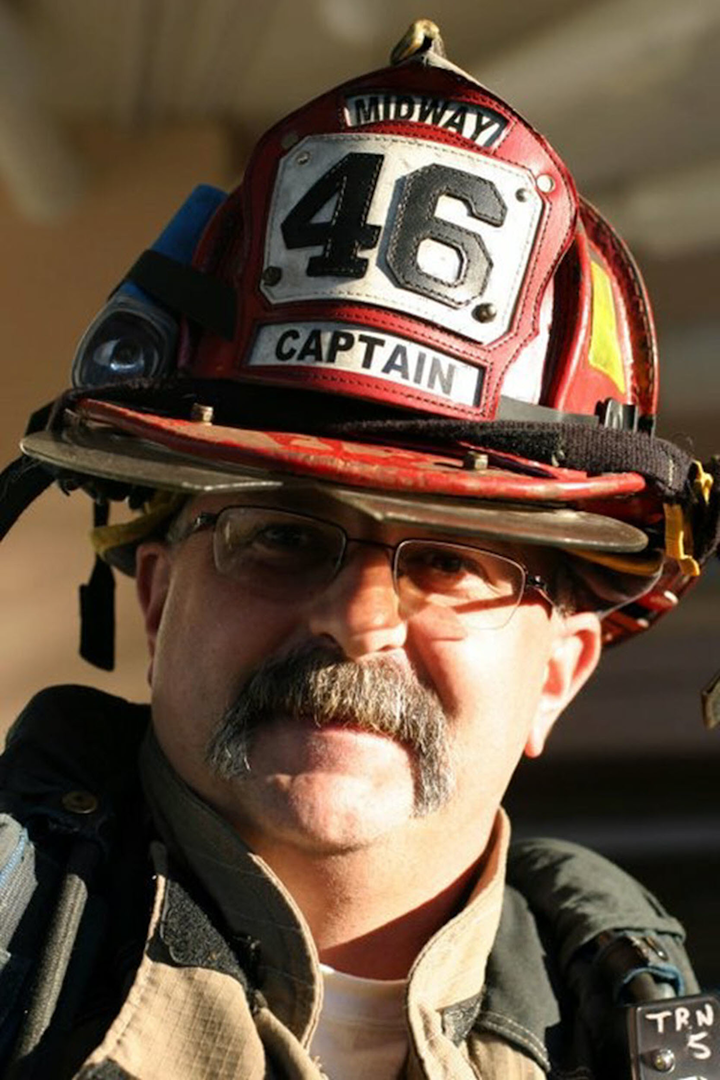 "The brotherhood is more of a familyhood for me."
—Lillian Carney, widow of Josh Carney, Midway Fire Rescue, Pawleys Island, SC
Josh Carney was a battalion chief at Midway Fire Rescue in Pawleys Island, SC, from 2000 to 2017. He was 41 years old when he was diagnosed with stage IV melanoma in June 2017. He passed away on Oct. 19, 2017. Lillian Carney, Josh's wife of 20 years, today runs the Carney Strong Initiative, a non-profit which assists fire departments with occupational cancer prevention through education and the donation of decontamination supplies. More information can be found at carneystrong.org.
Can you first share with readers a little bit about your late husband?
Josh started as a volunteer firefighter in his hometown in Connecticut back in 1993 while in high school. Along with his best friend, Dan, they started going to the local volunteer station on drill nights after being invited by a neighbor who was a volunteer. It was a good way to keep himself out of trouble. Instantly he knew that he wanted this to be his career and signed up as a volunteer. After graduating high school, he joined the US Air Force. He served 1995-1999 as a firefighter.
After he was discharged, we moved to South Carolina where he was hired at Midway Fire Rescue in Pawleys Island, starting January 2000. Over the years he moved up through the ranks to eventually become battalion chief in March 2017. He remained there until he passed away on Oct.19, 2017. His entire career in the fire service was more than 25 years.
Can you describe his cancer journey? When did you both realize it might be related to fighting fires?
The the beginning of 2017, we noticed a small bump on the back of his head, under the skin. It almost looked like an in-grown hair. Though it wasn't going away, at that point it was the only one so we didn't think anything of it. A few months go by and now there are a few more on his head, neck and upper torso. But again, they were small, subcutaneous and they didn't hurt. He had no symptoms or other changes in his body. Another month goes by and the one on his head had grown and a few more appeared, so we scheduled an appointment with his primary care physician, who didn't think too much of it, but referred Josh to a general surgeon to remove the one from his head. 
In June 2017, the general surgeon sent Josh for a PET scan. The surgeon advised Josh that he lit up like a Christmas tree on the inside and without a doubt had cancer. Two days later, they removed the one from his head for a biopsy. In the beginning of July, we met with an oncologist who determined it was stage IV melanoma. A brain MRI revealed Josh had several spots in his head. The treatment plan was every three weeks of immunotherapy for the body and three weeks of daily direct brain radiation.
Treatment continued from July into August. He officially stopped working at this point. Josh started having issues in his leg, which led us to the emergency room.  He had deep vein thrombosis in his left leg. While in the ER, they found he had a tumor pressing against his pulmonary vein near his heart. After several tests and nerve-racking days later, it was determined he wouldn't need invasive surgery. Instead, another three weeks of daily direct chest radiation to shrink that one. 
With that and immunotherapy, we move into September. At this point, Josh had lost a significant amount of weight, loss of appetite, fatigue...all the side effects that come along with his treatment plan, or so we thought. 
The beginning of October was follow-up tests to check the treatment progress. Though the brain tumors shrunk from the radiation, the immunotherapy wasn't working, and in fact the tumors had spread throughout more of his body. His kidneys had already started failing, though he had all of the symptoms of improper kidney function, they were also side effects of the treatments. Nothing was functioning properly. We were told on Oct. 12 there would be no more treatment, no clinical trials he would be eligible for, and he had weeks, if that to live. One week later he passed away.
His cancer journey, though brief, was aggressive and excruciating to watch and care for. He stood taller than most, broad shoulders. The epitome of strength was collapsing in front of our very eyes. Cancer was quickly taking over every piece of him, every piece of us, every piece of our lives. It was 121 days from diagnosis to death. Looking back on the time now, he didn't stand a chance, and we didn't know it. He was 41.
At first, Josh was skeptical to think his cancer was job related. After all, melanoma isn't uncommon. However, the more research and white papers I read and shared with him, the more he realized that he didn't contract it from being in the sun...it was indeed from his job. This was about the end of July he started reading the studies, understanding the contributing factors, understanding it was firefighter related cancer. I think his skepticism is partially contributed to us living in South Carolina. With no presumptive cancer laws in place, for him, it wouldn't have made a difference, he was no longer the big, strong firefighter he had been for so many years. He could no longer protect his community, protect us, his family. Calling it firefighter cancer, or just cancer, it meant the same thing to him, he was failing his family. We had a few conversations during his 121 days, enough to know he wasn't afraid of dying, but he was afraid of the impact his death would have on his family. I know that tore him up inside, probably more than the cancer.
How did the fire service support you and your family after your husband's passing?
The support of his brothers and sisters started well before he passed away. From the moment he shared the news with his shift, his brothers and sisters were lined up to care for our daughter, do the yard work, chauffeur Josh to appointments, bring dinner to our home, come over for football Sundays, etc.   
After Josh passed away, the support remained. There are still many of his brothers and sisters, from his department and others from across the country, that call or text every month to check in on us. They still invite me down for dinner at the station and hang out at my kitchen table for 'therapy sessions.' My daughter and I are still a part of not just the shift family, but the department family, invited to get togethers, shift celebrations, dinner and drinks with some of the wives, and more.  If I need help around the house with something, I call one guy, and he finds someone from the department that is available to help.
It has been two years since Josh passed away, and though there have been some new faces at the fire department that never worked with Josh, they too embrace our family with love. The brotherhood is more of a familyhood for me.
What advice do you have for firefighters and their families facing fire-related cancer?
I have spent most of the past 2.5 years sharing thoughts on the importance of cancer prevention, the significance of certain choices we make affect our lives, before and after a cancer diagnosis. Cancer and death are a scary topic, almost forbidden at times, especially for those who are not yet forced to live the experience. There is more to a cancer diagnosis than we expect. 
For Josh, discussing his feelings, emotionally and physically, just wasn't a 'thing.' He wasn't one to cry, let alone in front of me. Even after 19 years of marriage, it was almost unchartered territory, until June 21, 2017. This was the day of the official cancer diagnosis, when he heard the words "Josh, you have cancer."  We sat at the kitchen table, and cried, sat in silence, then cried some more. Before we knew what kind and how bad, we sat at the table and made the choice to NOT second guess any decision we made. This of course ended up being easier said than done, but it worked and got us through some difficult choices.   
My random thoughts and advice for all without or without a cancer diagnosis:
Life insurance, separate from the employer, is important.
If there is a change in your body, no matter how insignificant, get it checked out. Talk to your primary care physician. You know your body better than anyone. Don't wait to make the appointment when it's convenient, that will be too late.
There is no excuse not to have a will.
It is okay to talk to someone about your feelings. Whether a firefighter, or a spouse, talking to someone regularly is good for you. Whether that be a chaplain, counselor or friend.
Sleep is underrated and should be higher on everyone's priority list. Sleep and rest play a significant role in your health and healing. 
Take the picture. Smile and make the memories. After you are gone, that is all that your family has left.
Life is better with you in it. Do your decon.
My random thoughts and advice for those post-cancer diagnosis:
Use a digital calendar that is shared with the family, or other core support people. Easy access is key for scheduling appointments.
It is okay to ask or accept help from friends, family or the brotherhood. It is not a sign of weakness.
It is easy for the caregiver to overdo it without realizing. Take care of yourself, too. This becomes easier when you accept or ask for help sometimes.
Speak up. No one will hear your questions or concerns unless you speak up. You are your best advocate!
Don't second guess any decisions after the fact. 
Do your own research and ask the doctors if you have questions.
Build a good support group. Both the firefighter AND the caregiver will need an outlet.
Don't make everything and everyday about cancer. Remember, you were still a person with a life before diagnosis.
Drink the protein shakes.
Josh had a few things he would often say around the firehouse that made an impact on his brothers and sisters and in our daily lives that we hold onto. He would say:
"Don't 'try' to do your best. Instead, put in every ounce of effort in your body, and DO your best."
"Do your job. Don't worry about what the other guy is doing, worry about you."
By sharing our family cancer story, pushing for cancer prevention through our non-profit organization, allowing others to see inside the life of a firefighter widow, I know Josh's death serves a greater purpose. He is not here anymore to teach the new guys, or share his wisdom or knowledge of the fire service, but he is still here through us, so that others may learn, so that others make it to retirement and beyond.  
View the full Cancer Awareness & Prevention supplement via Firehouse's proprietary digital platform Clarity, which includes additional content and videos.