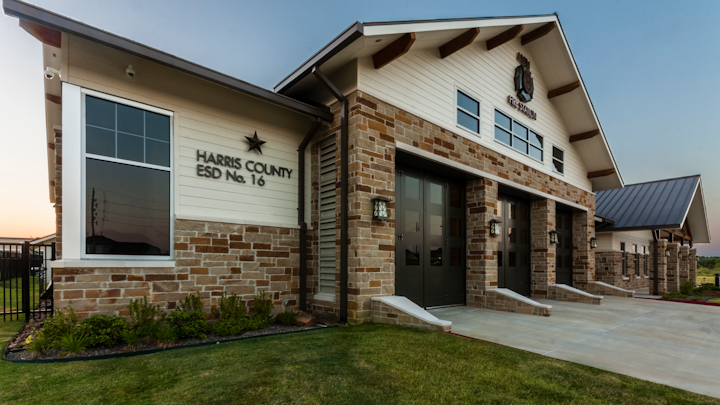 Klein Volunteer Fire Department
This facility received a Volunteer/Combination Bronze Award in Firehouse's 2018 Station Design Awards. Find the full list of winners here.
Located in a residential neighborhood and staffed by a volunteer fire department, the Klein VFD's new Fire Station No. 8 in Spring, TX, was designed to fully maximize the county's tax revenue and to meet the community's long-term needs. The simple wood-framed station was designed to be cost-efficient not only in up-front material cost but also in long-term life-cycle expenses.
LED lighting was used throughout the facility along with a high-efficiency mechanical system and "water sense" water fixtures. The design team worked diligently to provide a water-tight and efficient building envelope, including a seamless roof with zero penetrations. Low maintenance and durable materials are used both on the interior and the outside of the station. The station is also equipped with the latest in emergency alerting technology, with fully automated access control, and Bluetooth-enabled speakers. The station sleeps eight staff members in individual bedrooms and encourages camaraderie with its open concept kitchen/dining/dayroom and covered patio.
Safety and function played major roles during design. The fully sprinklered building is protected by solenoid shut-off valves at the gas grill and stove. The valves are tied into the alerting system ensuring that all open flames are extinguished when the staff leaves the station.
The bay, which is separated from the living side of the station by airlocks, is designed to automatically turn over and replenish all air with exhaust fans three minutes after a call comes in. If a second call comes in during this time, the system automatically turns off, allowing staff to hear the new tones before restarting. A decontamination shower room is provided directly off the bay, allowing staff to clean up after a call without entering the living portion of the station and the turnout gear is protected from UV exposure in its own designated storage room.
Architect/Firm Name: Brown Reynolds Watford Architects.