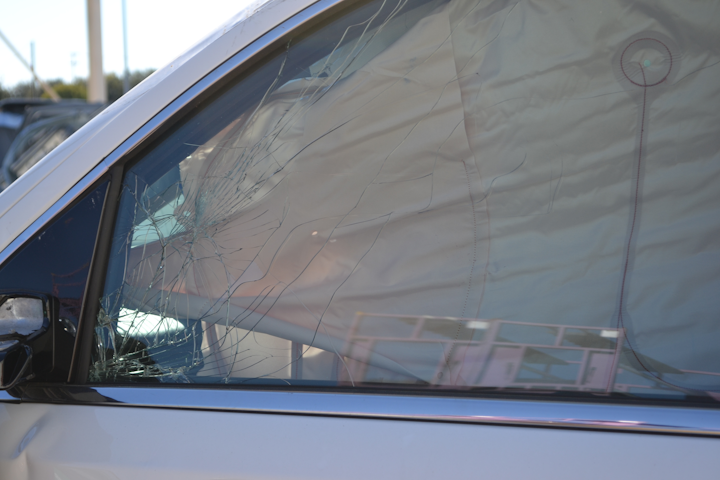 Photos by Ron Moore
Subject: Skills Update: Laminated Side-Window Glass Removal
Topic: Laminated Side-Window Glass
Objective: Adapt and update task of door-window glass removal to address the presence of laminated safety glass.
Task: The rescue team shall study the laminated door-window glass of a 2017 model year (or newer) vehicle and determine updated techniques for removing a laminated glass window pane if found at an incident scene.
As model year 2017 and newer passenger vehicles hit the streets, responders must realize that door-window rescue skills need to be updated due to a high probability that the door window will be laminated safety glass. We continue our Skills Update series with a look at updates to the rescue task of removing this type of safety glass when found in the door of a vehicle.
Federal Motor Vehicle Safety Standard (FMVSS) 226 is now in effect and addresses preventing ejection from vehicles beginning with the 2017 models. One method many auto manufacturers are using to comply with FMVSS 226 is to place laminated safety glass in side-door windows. Where a spring-loaded center punch has been our reliable method of removing tempered safety glass for years, that tool will not work when the glass is laminated.
This Skills Update article outlines a three-step process for dealing with laminated glass removal—size-up, cutting and removing. Initially, it must be determined whether the glass is tempered or laminated. Do not plan on being able to figure out what type of glass you have based on labels or markings on the glass, if you can even find them at all.
Our first step for dealing with removal therefore begins with glass size-up. If there are large cracks in the glass, you can anticipate that the glass is laminated safety glass and immediately proceed to the next step of the removal process.
If you do not see any cracks or damage to the glass and you are assigned to remove it, you should perform a very quick field test on it. After ensuring that the patient and inside rescuer are protected and prepared for glass-breaking, use a center punch on the glass just as you would if it were known to be tempered glass. Observe the results.
If the punch breaks the glass into the familiar "nuggets," then you just broke a tempered glass window. If the punch results in only a "BB" mark in the glass, move over an inch or so and try the punch again. If you get a second BB mark, then we are dealing with a laminated window glass.
Once confirmed as laminated glass, the second step of our glass-removal skill is to use any windshield-removal tool to cut across the bottom of the window. An axe, a Glas-Master tool, a reciprocating saw, or any of the electric glass removal tools will make this cut. Whatever you use on a windshield, you can use it for the bottom cut.
You follow this bottom cut with the third step of our Skills Update, glass removal. Pry the bottom edge of the laminated glass window outward. Grab the glass and pull it outward and downward. The entire laminated window glass pane will come out of the window opening as one large piece. Unlike the windshield, laminated door-window glass is only secured along its bottom edge, so that is why this technique is so effective.
Laminated side-window glass may be found in front row door windows for the driver and front passenger or it may be present in all door windows. Don't assume that just because you find laminated glass in the front door windows that the rear doors will also have laminated glass. They may be or they may not. You should plan on sizing-up each window you encounter during your glass removal work.
Sidebar
The Three-Step Process for Laminated Glass Removal
Size-Up—Determine if the glass is laminated or tempered
Cutting—Cut from edge to edge along the bottom of the glass
Removing—With a firm grip, pull it outward and downward