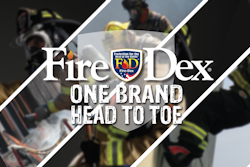 780 South Progress Drive
Medina, OH 44256
Fire-Dex, headquartered in Medina, Ohio, is a leading manufacturer of head-to-toe protection for 1st responders. Fire-Dex began with the acquisition of Morgan Protective Apparel in Rome, GA in 1983; manufacturing welding and firefighting gloves with good dexterity, the name "Fire-Dex" was an obvious choice. Fire-Dex strategically grew by adding more accessory items such as fire hoods, gear bags, and suspenders and then began manufacturing structural turnout gear in 1987. 
In 1997 Fire-Dex built and opened their current manufacturing facility & headquarters in Medina, Ohio.  Fire-Dex was the first manufacturer in the industry to be awarded the ISO 9001 certification (2000 edition) and our robust quality system is currently certified to the ISO 9001:2015 edition.
Expansion continued in the following years, adding Para-Dex™ EMS and USAR Gear, and then in September of 2008 Fire-Dex acquired Chieftain, bringing with it a long history in the fire industry, dating back to 1927.
Fire-Dex entered the footwear market in 2010 when they launched their first structural firefighting boot, the FDXL-100 Red Leather Boot.
Recognizing the health benefits of wearing lighter gear when structural turnouts aren't necessary, Fire-Dex proudly acquired TECGEN® PPE in September of 2015 as its latest addition to the Fire-Dex family of brands.
Request More Information
Fill out the form below to request more information about Fire-Dex.
---