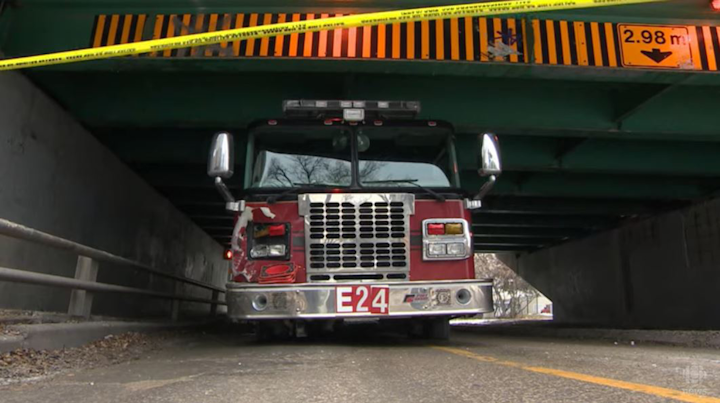 CBC Screenshot
Winnipeg police officials arrested a man who led them on a chase after stealing a pumper through downtown, leaving a path of destruction and hundreds without power.
The apparatus was stolen while the Winnipeg Fire Paramedic Service crew was handling an emergency call, according to CTV News Winnipeg. 
An off-duty Winnipeg firefighter who spotted the apparatus beiing operated erratically called the police after he noticed that it was not a firefighter behind the wheel.
The man used the emergency warning equipment, including airhorns, as he drove through downtown.  The suspect used the apparatus to rear-end a pickup truck that sheared a utility pole in half, leading to a power outage that impacted 800 people. The driver was not injured.
Pedestrians ran for cover when the pumper drove through Central Park, the television station reported.
The apparatus then drove into a wall and traffic bollard, but not come to a stop until tire-deflation devices were deployed by police officers.
Police used a taser to control Bai Farama Koroma, 36, and then took him in to custody.
The man is facing myriad of charges, including Impaired Driving, Theft of a Motor Vehicle and Dangerous Operation of a Conveyance.
After he was detained, he commented "I've always wanted to do this," according to Winnipeg Police Service Const. Rob Carver.