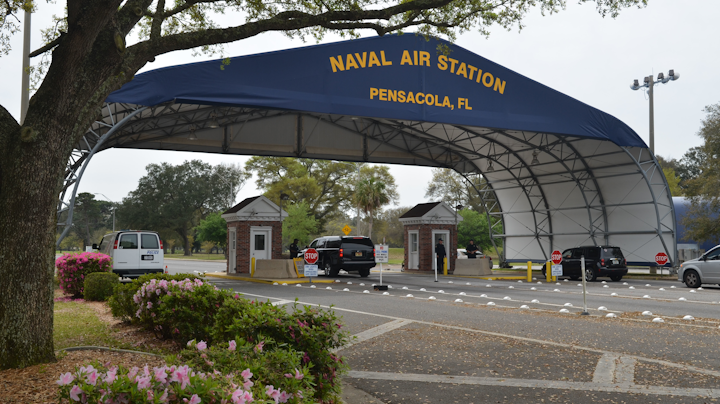 U.S. Navy
WASHINGTON—A national of Saudi Arabia who was in the U.S. for military training opened fire at a naval base in Florida, leaving three victims dead and several people injured.
The shooter, a member of Saudi Arabia's Air Force, is also dead, officials said. He used a handgun in the attack, police said, without elaborating.
"The government of Saudi Arabia needs to make things better for these victims," said Florida Gov. Ron DeSantis. "They are going to owe a debt here."
DeSantis also hinted that the nature of the incident would complicate investigations, which are now under the auspices of the federal authorities.
"Obviously, when you have a foreign national involved, especially from that part of the world, the investigation is obviously going to be different," DeSantis said. Police made similar remarks.
Timothy Kinsella, a captain and commander at Naval Air Station Pensacola, said the Saudi national was in the U.S. on an aviation training program. He noted there are hundreds of foreign nationals from various allied nations who train at the base.
David Morgan, the sheriff of Escambia County, vowed that there will be an extensive investigation.
"You will hear the truth from us, as best we can tell you," he said.
The lead in the investigation has been handed over to the Federal Bureau of Investigation.
Police responded to the shooting in about three to five minutes.
"There was some real heroism today," said Kinsella, referring to the response by police, civilians and military officers.
Weapons are not generally allowed on the base, with the exception of security personnel, raising questions about how a foreign national had a handgun.
President Donald Trump says he received a phone call from King Salman of Saudi Arabia, who expressed condolences over the shooting in Florida.
"The King said that the Saudi people are greatly angered by the barbaric actions of the shooter, and that this person in no way shape or form represents the feelings of the Saudi people who love the American people," Trump posted on Twitter.
"These acts are crimes against all of us," said Thomas Modly, the acting secretary of the Navy. "Our prayers are with the families of the fallen and with the wounded. It is our solemn duty to find the causes of such tragic loss and ceaselessly work together to prevent them."
The incident comes two days after a sailor shot dead two workers at Joint Base Pearl Harbor-Hickam in Hawaii, before the shooter took his own life. Investigations are still ongoing.
Officials at Pearl Harbor said the annual commemoration events to mark the Japanese attack on the base in 1941, which sparked the US entry into World War II, would go ahead as planned at the weekend.
———
©2019 Deutsche Presse-Agentur GmbH (Hamburg, Germany)
Visit Deutsche Presse-Agentur GmbH (Hamburg, Germany) at www.dpa.de/English.82.0.html
Distributed by Tribune Content Agency, LLC.