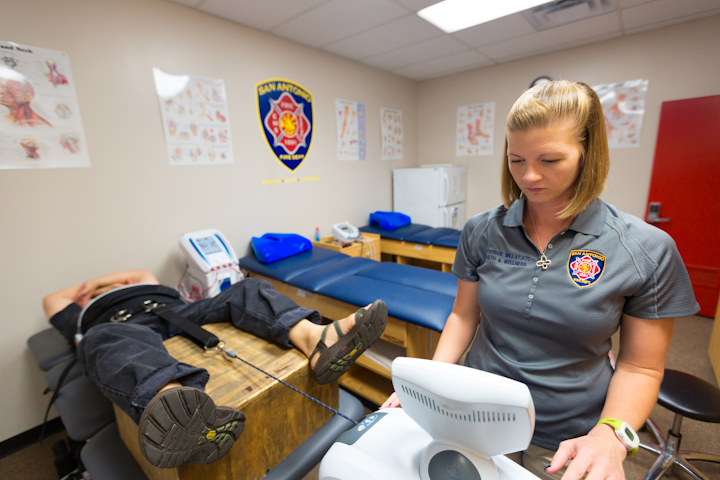 Photo by Albert Pedroza/SAFD
What if you had access to a medical professional who could assess and facilitate the proper treatment for your injury? What if you could receive treatment and rehabilitation for your injury at no cost? What if your fire chief could demonstrate real savings in medical costs for injuries? An Injury Care and Prevention Program managed by a certified athletic trainer (AT) can do just that. This type of program will decrease workers' compensation costs and lost work time while improving quality of care. The San Antonio Fire Department (SAFD) has added this invaluable resource to its Health & Wellness Program with evidence of substantial savings.
What is an athletic trainer?
Athletic Training is an allied healthcare profession recognized by the American Medical Association (AMA). An AT is a medical professional who works under the delegated medical authority of a physician and is an expert in the prevention, treatment and rehabilitation of musculoskeletal injuries. Typically, an AT is found offering their skills in the high school and secondary school setting, working with professional sports teams or at sporting events.
Recently, ATs have begun branching out into the industrial, corporate, military, law enforcement and fire department settings. ATs work on site to provide ergonomic and biomechanical assessments that aid in the prevention of injuries and will provide immediate assessment and treatment when an injury does occur. Additionally, ATs provide on-site rehabilitation that is specific to both the individual as well as their line of work.
Impact of an AT
Although the SAFD AT has only been on staff for the past 10 months, the return on investment (ROI) figures documented have been impressive. In this alternative setting, the AT has impacted the number and severity of injuries as well as the overall costs associated with workers' compensation due to injury.
Just as athletes experience injuries throughout the course of their participation, firefighters incur athletic-type injuries that may hinder their abilities on the job. The very nature of the job entails long hours, unpredictable situations and awkward positioning at a moment's notice without appropriate warm up. Firefighters are considered tactical athletes and, as such, must have the strength, speed, agility and endurance to complete the mission at hand. Unlike sports arenas, there is no buzzer to indicate the game is over or that it's time to send in a substitute. Whether through fatigue or injury, a firefighter who is unable to work at full strength could jeopardize their own life, that of another firefighter, or a civilian.1
The National Athletic Trainers' Association (NATA) conducted a national survey of industrial companies that utilize the services of a certified AT.2 The results of this survey demonstrate that:
100 percent of the companies reported that an AT provides a favorable ROI.
Of companies that knew the specific ROI amount:
o   30 percent indicated the ROI was at least $7/employee per $1 invested.
o   83 percent indicated the ROI was more than $3/employee per $1 invested.
46 percent of the companies that provided on-site physical rehabilitation indicated that health care costs had decreased by more than 50 percent.
Of the companies that tracked workers' compensation:
o   63 percent reported that the athletic trainer made an impact on their workers' compensation costs within 6 months.
o   96 percent reported that the athletic trainer made an impact on their workers' compensation costs within 1 year.
The SAFD designed the Athletic Training program using a model similar to that of the Fairfax County, VA, Police Department's Athletic Trainer. The department's AT—Nancy Burke, MS, VATL, ATC—has proven that the utilization of an AT within the academy setting at Fairfax County has reduced overall medical costs by 49.5 percent and musculoskeletal costs by 86.3 percent. By treating sworn and civilian employees in a large county police force, Burke has demonstrated reductions of overall medical costs by 22.05 percent and reductions in musculoskeletal medical costs by 21.2 percent.3
Rehabilitative services
Having an on-site AT allows for immediate treatment and frequent rehabilitation of injuries. This expedites healing time and decreases the perception of pain that occurs post injury, decreasing the time that it takes to return to full-duty status. This decrease in time to return to full duty impacts the psychological well being of the patient as well as associated healthcare costs. Immediate treatment—coupled with early, specialized rehabilitation—will yield better outcomes both physically and psychologically.
In a study documenting the cost-effectiveness of hiring ATs in the nontraditional setting, it was noted that, "… workers who have suffered the trauma of injury recognize not only the physical benefits of these programs, but also the psychological effects. These programs have proven their value in increasing productivity and reducing the spiraling costs of healthcare. The initial capital outlay for equipment and facilities, in addition to the benefits and salaries of the athletic trainers, were recovered within 6 months of operation through cost savings."4  
The San Antonio Fire Department documented the initial capital outlay for equipment and annual salary at approximately $94,000. Table 1: Cost Savings details the savings documented for the year-to-date. The initial capital outlay was recovered within the first quarter, more than justifying the need for this position, and the cost savings has far surpassed any expectations for the first year of operation.
Impact on OT pay
Unfortunately, it's not just the workers' compensation expenses that are problematic. The lost hours and cost of back staffing add additional costs. Lost wages from possible overtime (OT) affects the employee as well.
In a study to determine the efficacy of an internal employee health program with early, in-house access to physical medicine and rehabilitation provided by athletic trainers, the researchers reported a decrease in lost work days by more than 50 percent. Additionally, the odds of returning to work within three weeks more than doubled.5
As noted in Table 1: Cost Savings, the overtime pay saved by an early return to full duty amounted to $72,312.32. The preliminary expected amount of time that each patient would be off of full duty was documented as well as the actual return date. Utilizing the number of shifts that overtime pay was not required for this injury and the average overtime hourly rate, the total savings was calculated. These individuals progressed through daily rehabilitation and were released back to full duty by the treating physician. Across the patients who were placed on light duty and utilized the ATs services, the early return to full duty was calculated at a median number of 15 shifts.
The availability of immediate evaluation and treatment benefits firefighters. Within the scope of injury treatment, an AT evaluates and treats injuries thus reducing the number of referrals. Because the AT works on site, immediate treatment is available to expedite healing time and decrease the amount of pain experienced post-injury. Furthermore, the development of a medical care plan along with the treating physician strengthens the quality of care. In an injury care model that does not involve an AT, time is lost waiting for appointments, and more money is spent within the healthcare system due to increased referrals and rehabilitation occurring off site. However, in an injury care model that utilizes an AT, the trainer refers patients only when necessary. Immediate care of the injury aids in reducing the initial inflammation, thus reducing pain and expediting the healing process. Because rehabilitation is done on site, therapy costs are removed. When the AT feels that the patient is ready, they will administer performance testing to ensure that the patient is prepared to return to full duty. This reduction in billable services drastically reduces overall healthcare costs while simultaneously increasing the quality of care. 
Injuries to full-duty personnel
The final cost savings documented, full-duty injury treatment savings, is likely the most difficult to quantify. Within the SAFD model, personnel can receive treatment for off-duty and chronic injuries as well. This treatment enables them to remain full duty. In an attempt to attach an actual cost savings to quantify these injuries, we have taken the total number of full-duty injuries that received treatment and multiplied this by an average shift rate for our department plus the overtime rate. This amount demonstrates the cost that could be seen if each of these injuries missed just one shift of work.
Table 2: Full-Duty Injuries Treated demonstrates this amount. Unfortunately, this area is one that is never fully quantified due to the fact that personnel simply do not miss their shift. It is through the use of the SAFD AT that small injuries are treated prior to becoming an injury that requires time off, thereby decreasing absenteeism and increasing productivity of the department.
In sum
According to the NATA Profile of Athletic Trainers, in a patient-centered delivery system, adding ATs to the team does not cost the healthcare system money.6 Studies demonstrate that the services of ATs save money for employers and improve quality of life for patients. After the initial nine months of operation, the SAFD has documented $593,682.59 in cost savings. This amount stands to grow as word of mouth continues to spread and traffic through the facility continues to increase.
References
1 Norwood, Newman "Train like the tactical athlete you are!" Fire Engineering (12/22/2014).
2 NATA, "Athletic Trainers Provide High Return on Investment In Today's Workplace." Accessed Jan. 21, 2016.
3 Injury Surveillance System, Fairfax County Criminal Justice Academy
4 Zimmerman. (1993) Industrial Medicine and Athletic Training: Cost-Effectiveness in the Non-traditional Setting. Journal of Athletic Training, 28(2), 131-136.
5 Larson, Matthew C., et al. "Reducing Lost Workdays After Work-related Injuries." Journal of Occupational and Environmental Medicine 53.10 (2011): 1199-204.
6 NATA, "Profile of Athletic Trainers." National Athletic Trainers' Association 2014.